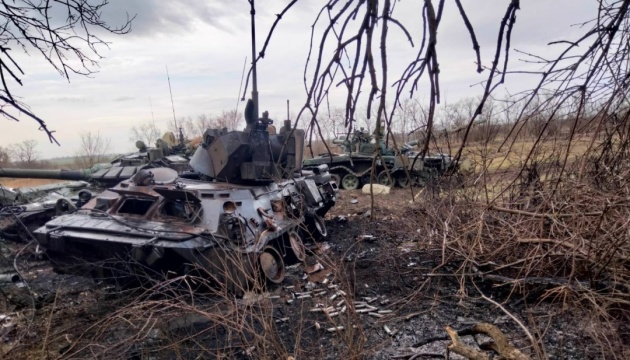 Thirty-six military clashes near Bakhmut, about 120 invaders eliminated
Near the Donetsk region's Bakhmut, Russian troops are reinforcing their positions with motorized rifle and tank units. Active hostilities are underway.
The relevant statement was made by Spokesperson for the Eastern Grouping of the Armed Forces of Ukraine Serhii Cherevatyi during a nationwide telethon, an Ukrinform correspondent reports.
"It can be stated that, near Bakhmut, along wth the Wagner criminal organization, the occupiers are reinforcing their positions with the motorized rifle and tank units of the Russian regular army. And, of course, regular Russian troops provide artillery and aviation support for both the Wagner mercenaries and the motorized rifle forces," Cherevatyi told.
In his words, a total of 36 military clashes have occurred in the Bakhmut direction over the past day. Russian invaders opened fire on the positions of Ukrainian forces with rocket artillery 134 times. A total of 117 Russian soldiers were eliminated and 199 injured.
According to Cherevatyi, Russians are suffering huge losses in the Bakhmut direction. But, Russian troops are rotating and reinforcing with fresh units. At the moment, it is difficult to say whether they can accumulate enough power to change anything radically in this area of the front before February 24, Cherevatyi added.