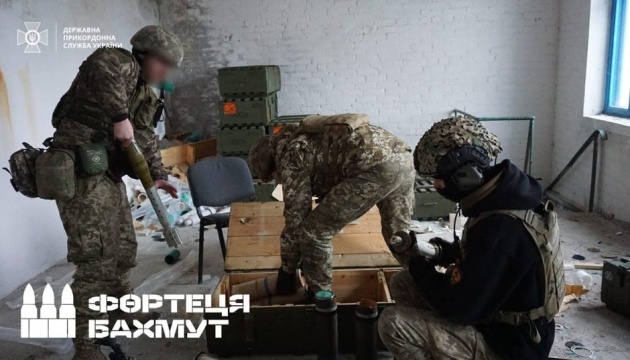 Bakhmut update: Border guards counterattack, eliminating 11 Russian invaders, downing UAV
Near Bakhmut, Donetsk region, the Ukrainian border guards went on a positional counterattack, killing 11 invaders and neutralizing a Russian unmanned aerial vehicle.
That's according to the agency's press service, Ukrinform reports.
"In Luhansk region, our mortars destroyed several dugouts of the Russian occupying forces along with enemy manpower. The border guards' artillery eliminated up to four infantry groups in the Bakhmut area," the statement reads.
In the ongoing battle of Bakhmut, border guards are holding back the attempts by enemy assault groups to break into the "fortress city." At the same time, in order to push the invaders out of suburban areas, Ukrainian troops are forced to get into close combat.
In addition, border guards successfully employed an anti-drone gun to neutralize an enemy UAV, which was spotting enemy artillery fire. The Ukrainian defenders also carried out a positional counterattack. The unit of Russian invaders was repulsed by small arms fire, also involving automatic and anti-tank grenade launchers. Russia's losses amounted to 11 KIAs and six WIAs.
As Ukrinform reported earlier, on February 11, Ukraine's Defense Forces repelled 11 enemy attacks in Luhansk and Donetsk regions.
Photo: State Border Guard Service of Ukraine