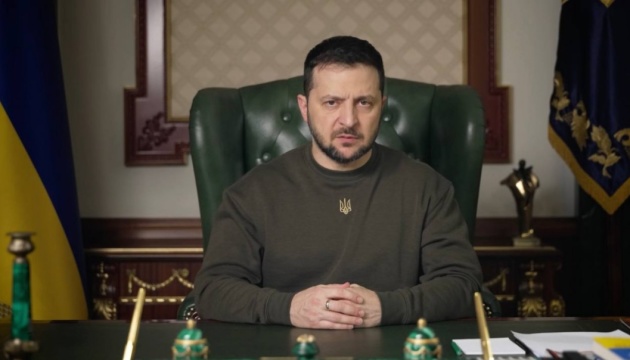 Zelensky holds meeting of Supreme Commander-in-Chief Staff to discuss situation on front lines
Ukrainian President Volodymyr Zelensky has chaired another meeting of the Staff of the Supreme Commander-in-Chief to discuss the situation on the front lines and the provision of equipment and ammunition to the Ukrainian Defense Forces.
That's according to the Office of the President of Ukraine, Ukrinform reports.
"Participants heard information about the current situation on the front lines. Particular attention was paid to the protection of Ukrainian positions in the Donetsk region - in the area of Bakhmut and Vuhledar - as well as in the area of Kreminna in the Luhansk region and in other areas of the front where active hostilities are ongoing," the report said.
The Ukrainian intelligence leadership reported on the actions of the enemy and their plans for the near future, the report said.
The participants in the meeting also discussed the provision of equipment and ammunition to the Ukrainian Defense Forces and their distribution among groups of troops.
The effectiveness of the anti-aircraft defense forces' response to Russia's February 10 massive missile attack was reviewed, and the necessary instructions were given to eliminate the consequences of damage to Ukraine's energy infrastructure.
Separately, the participants in the meeting focused on preparations for the next meeting of the Ukraine Defense Contact Group, taking into account the agreements reached by President Zelensky during his recent overseas visits.
The meeting was attended by Head of the Office of the President of Ukraine Andriy Yermak, Secretary of the National Security and Defense Council Oleksiy Danilov, Commander-in-Chief of the Armed Forces Valerii Zaluzhnyi, Chief of the Main Intelligence Directorate Kyrylo Budanov, and commanders of military branches and operational areas. Government members and heads of law enforcement agencies and security agencies also joined the meeting.
On February 10, the Russian military launched a massive missile attack on critical infrastructure in Ukraine. Ukrainian forces shot down 61 out of 71 cruise missiles launched by Russia.