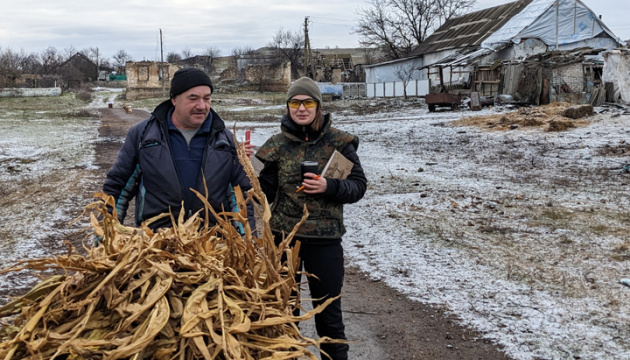 "My cow's leg was torn off, my German Sheperd – torn to pieces..." Life in a village on the front line
The Kherson and Beryslav districts were the most affected by the hostilities, and the nearby villages and Kherson itself are being subjected to daily shelling.
The village of Mala Seydemynukha and the area up to Davydiv Brid have been affected the most, including due to massive mine contamination of fields and residential areas. Along the perimeter, the occupiers were entrenched, firing at the Ukrainian army positions... The fire was so dense that there is not a single tree that remained intact in the forest strips.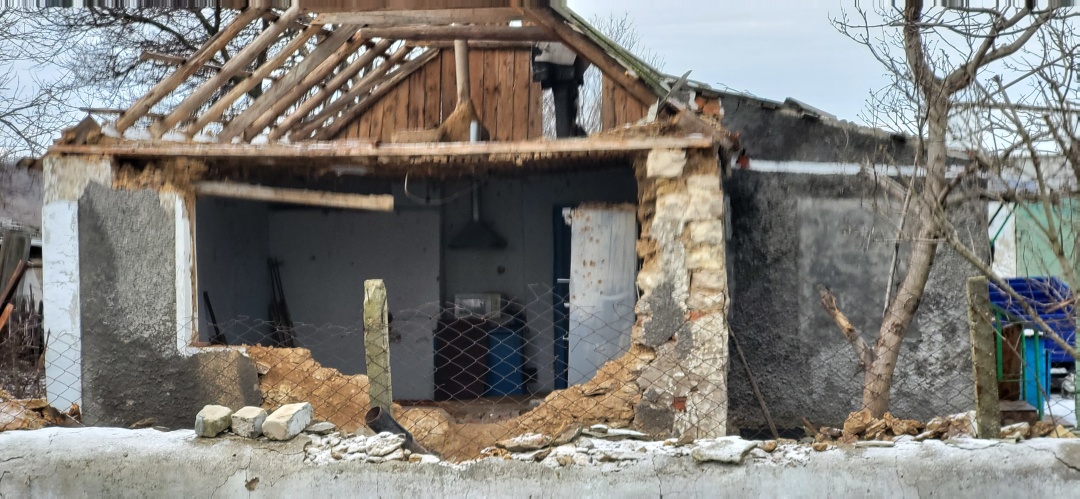 We stopped in the village early in the morning. The area seemed to be slowly waking up. But there was almost nothing and no one left there. Yard after yard, house after house, everything stands empty and destroyed. Imagine the surprise when we saw a man carrying a corncob...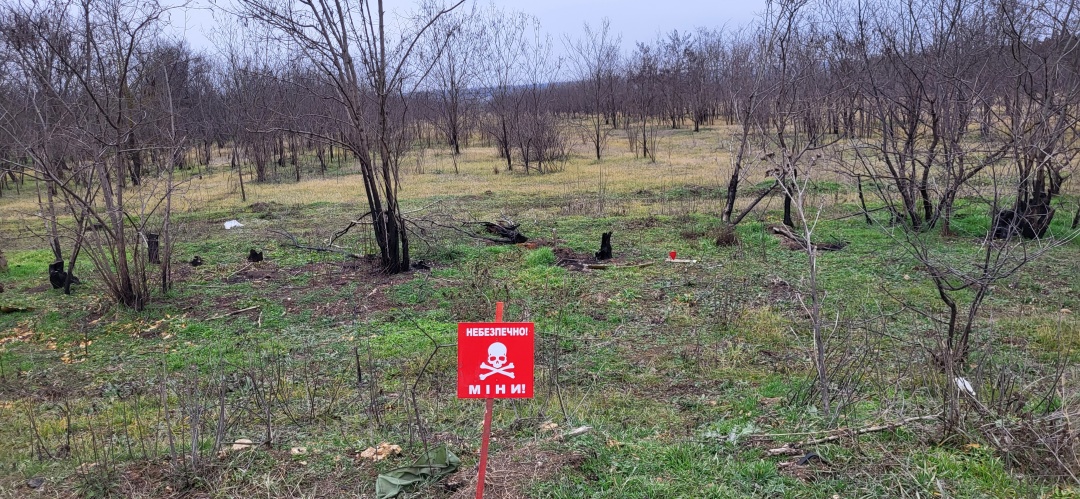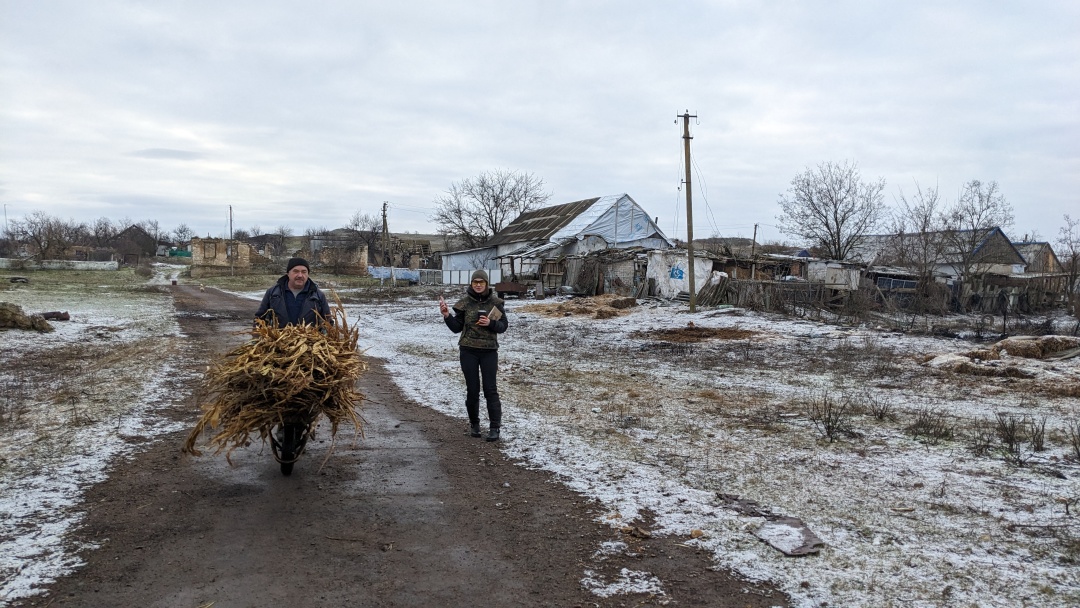 - Where do you live? Everything seems to be destroyed…
- Come, I'll show you, the man says, inviting us to his home.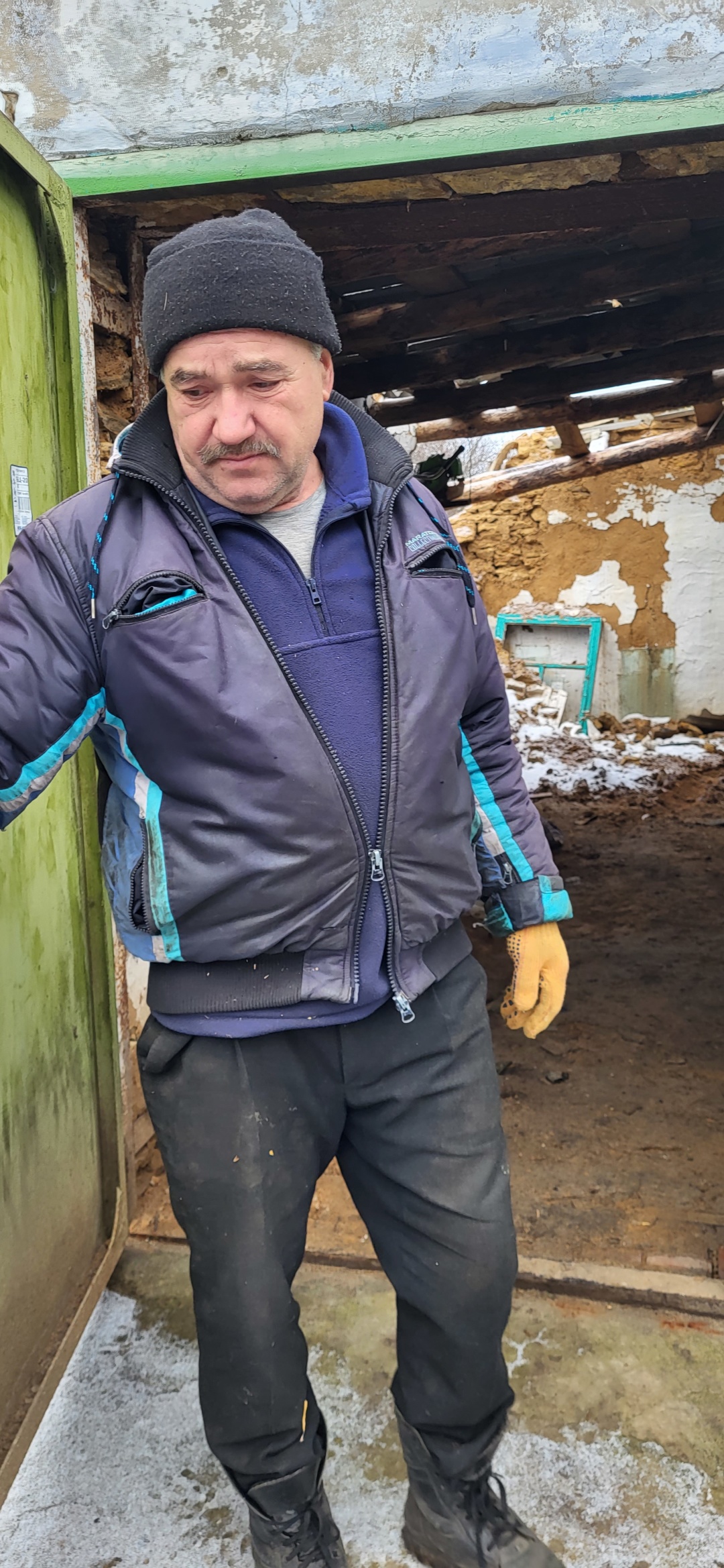 The man's name is Serhiy. He stayed here with his wife throughout the occupation. In September, during the offensive, they evacuated only for a while – and relatively recently, like 16 other residents, they returned to live in their native village after it was liberated.
During the occupation, 50 of the 180 residents remained here.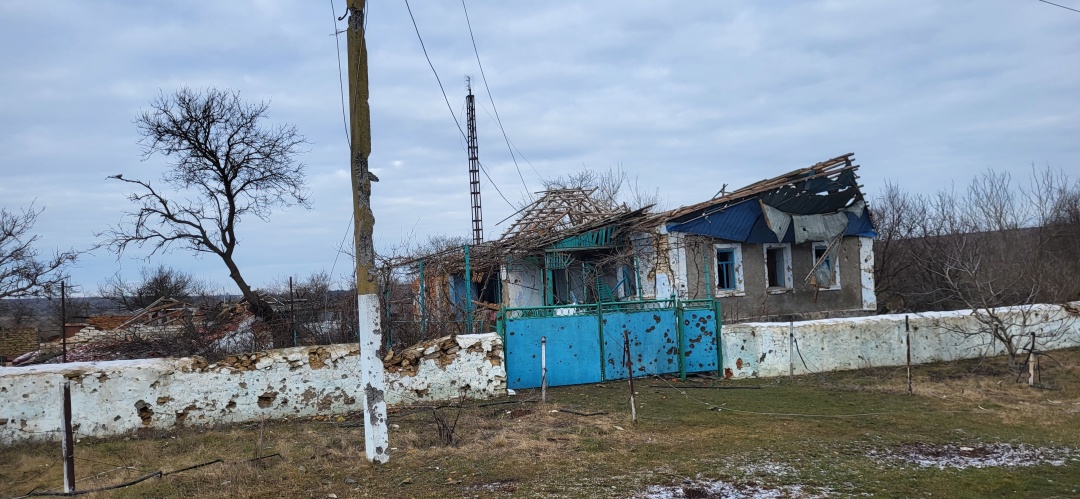 There has been no electricity in the area for nine months and it is not expected to be restored anytime soon.
- There are no cows left in the village. Maybe two. We had 70, then almost all of them were killed or blown up on mines. See the cow lying here and there? We haven't approached all of them yet. There are mines there.
- Why did you keep staying here?
- Where would I go? Someone put me on the list for the territorial defense force so first I wasn't allowed to leave. They told me to sit at home. Which I did. I would only take the cows out of the yard to graze. The road to the village was closed to me, they told me not to even appear there.
In the village, the DNR Russian proxy forces were deployed, them bastards… And over there, there were Russian troops. But I saw them only once. They came from the steppe, really well-equipped.
- Was there any looting here?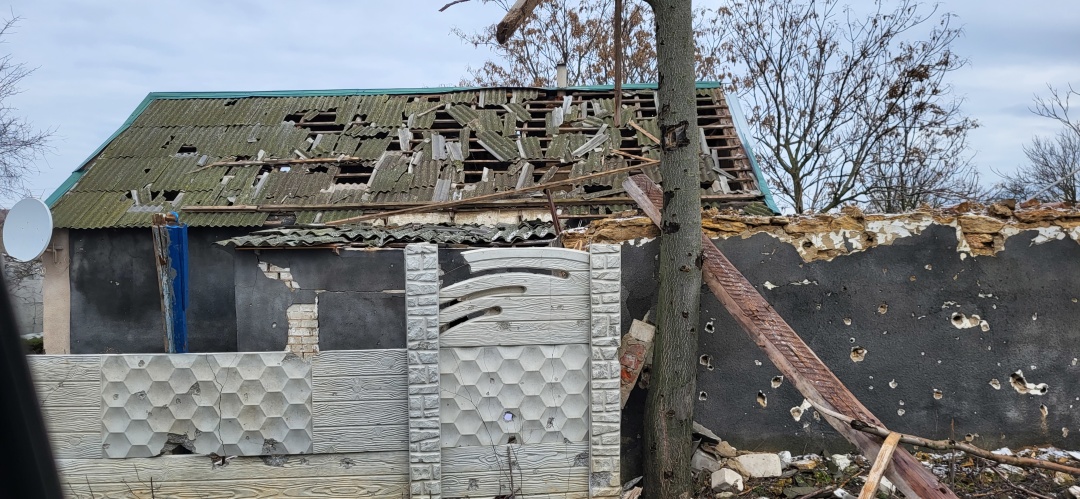 - They would come over and you would just give stuff to them if they tell you. If you don't they'll just take it anyway. They would take pickles and other food. Sometimes they would give you some rice or something… And we had to take it because if we didn't they would take revenge on us, saying "You seem to be living a pretty good life here, right? You're done!" They would also search for some wild hemp around the village... There was general chaos here.
We approach the owner's house. The family has cleaned up the yard and the destruction does not look so terrible now.
- Here is the crypt in which we were hiding, the man says, pointing to the place where only a pit and a few bricks remained. – As soon as we left, the shelter was hit. Our kitchen was also destroyed.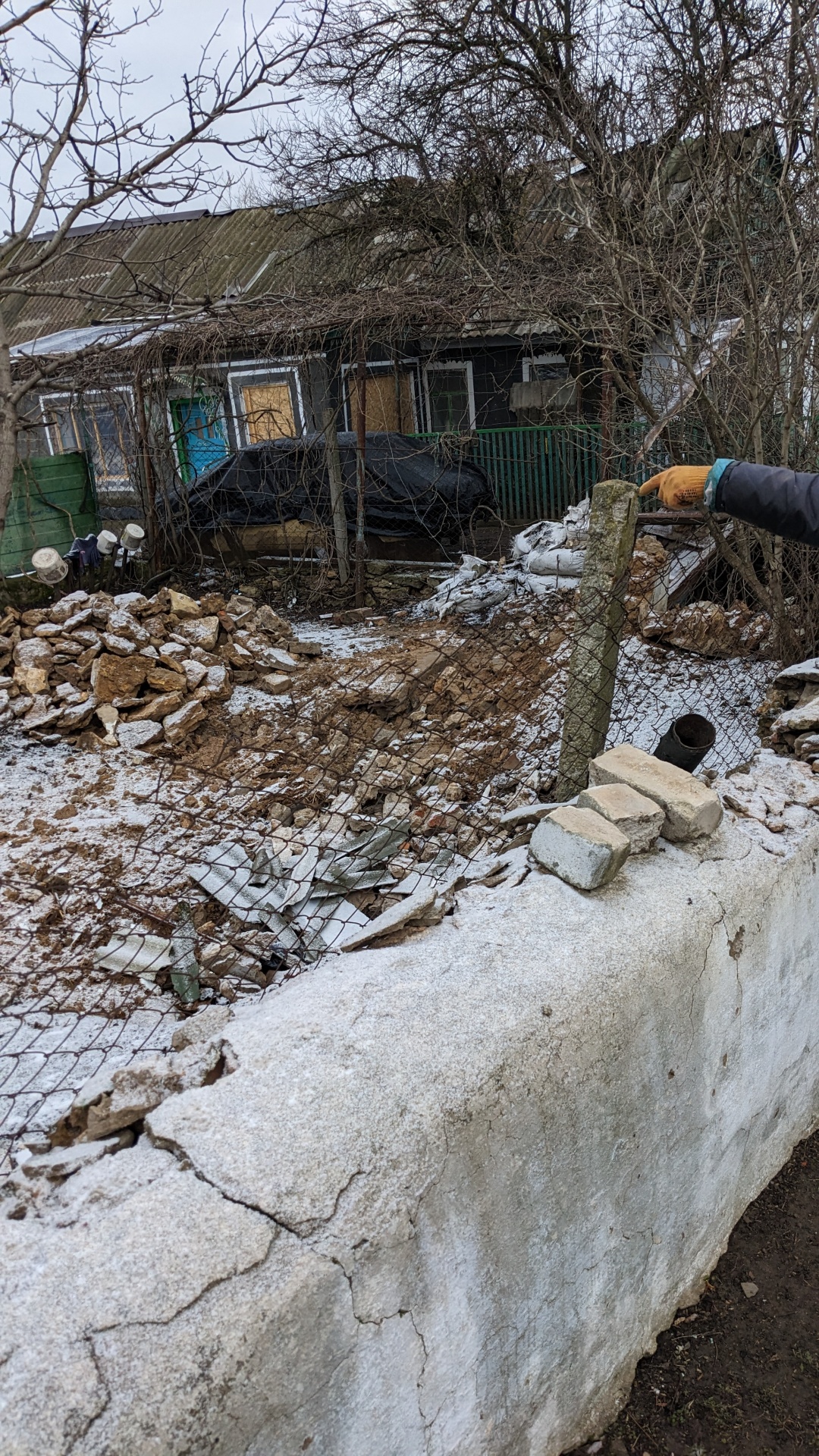 Our troops were in the village of Novohredneve. In a straight line, it is two kilometers from Velyka Seidymenukha. The fighting has been going on since March, but it has been more intense for two months. Our soldiers could not get close to the Russians. The warplanes would fly low, fire off, and fly back.
- I see that your house has survived..., - I say.
- Survived? Really? The projectile flew through the roof and exploded right in the attic. The windows were blown out. We have already renovated it. This is where the shell went underground, and this was our garage.
My cow's leg was torn off. Someone came to me from another village and took the cow for UAH 4,000 to butcher.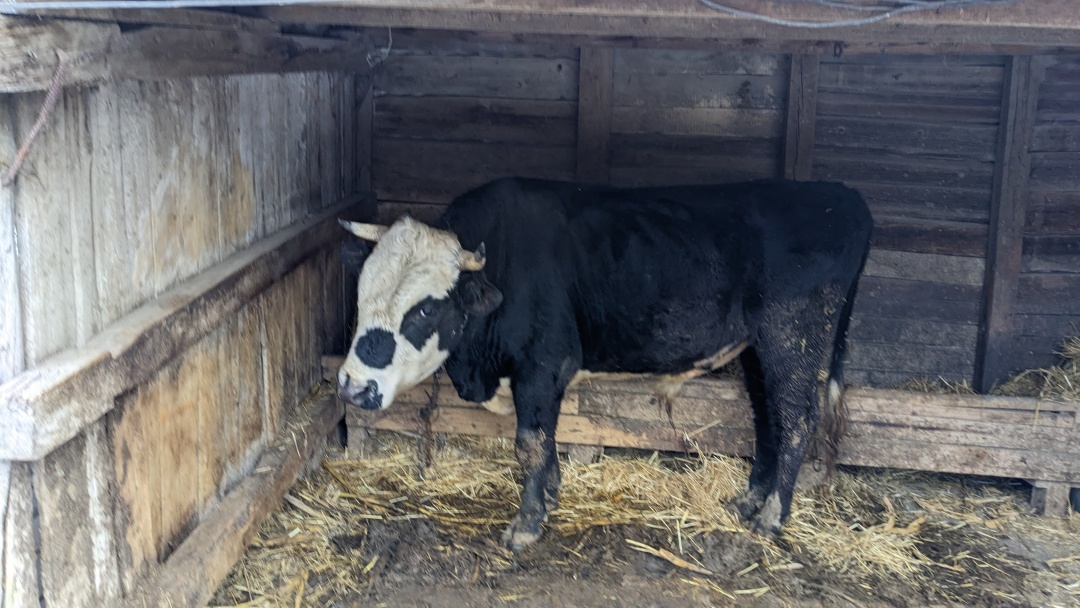 And this guy, - he points to the bull, - is the one the guys from the 61st brigade set free so he wouldn't die. When I got home, I found him, he was just wandering here.
Here I marked with a red ribbon the shells that are sticking out in our garden.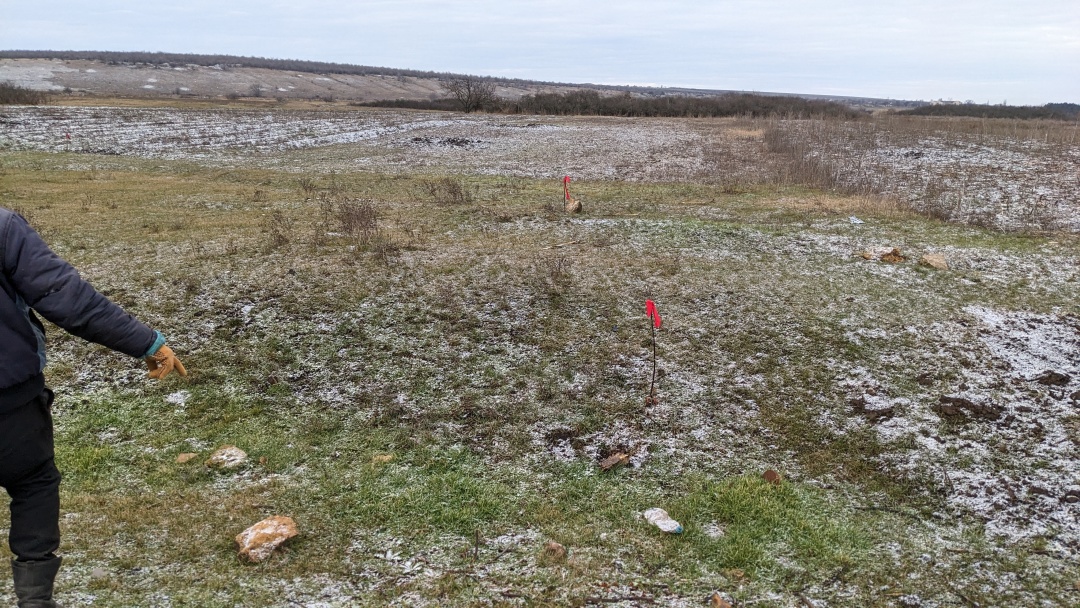 This is where piercing munitions flew in. Intended for bunkers, probably. They would pierce the ground and only explode there. Near my house and near my father's there were at least 42 such hits. Also, nine didn't explode. I still need to recount the red flags that I put there, marking the spots.
This is my apiary, and here our German Shepherd was torn to pieces.
Our soldiers came here on September 9. They came through my yard. They said: man, you should leave because there will be hell here. So on September 14, we left the village.
When they came, said to me: Man, we'd been observing you for a week and a half before we decided to come here.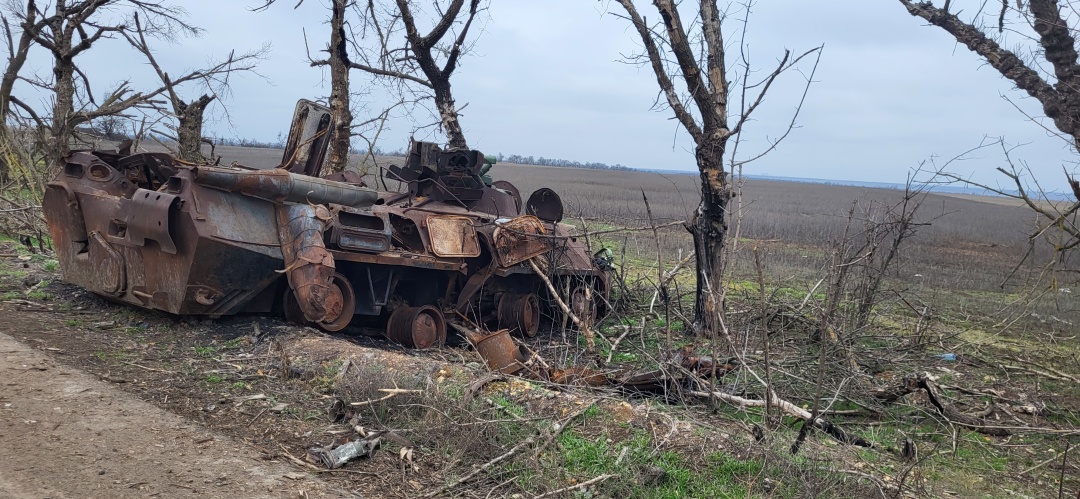 "Follow me," the man says, inviting me to the vegetable garden, littered with unexploded ordnance.
- Can we walk here?
- I've walked here before. If we die, at least we'll do it together.
The man laughs
- I thought I'd already lost my sense of fear... There was no one in the village for three weeks. Only soldiers. There were firefights in the village. I had an armored personnel carrier deployed right outside my house...
The Inhulets River shores have been mined. They came there in the summer and mined the area. One of them had his legs torn off. And over there, they would fire anti-tank mines, because there it was possible to cross the river in its shallow part.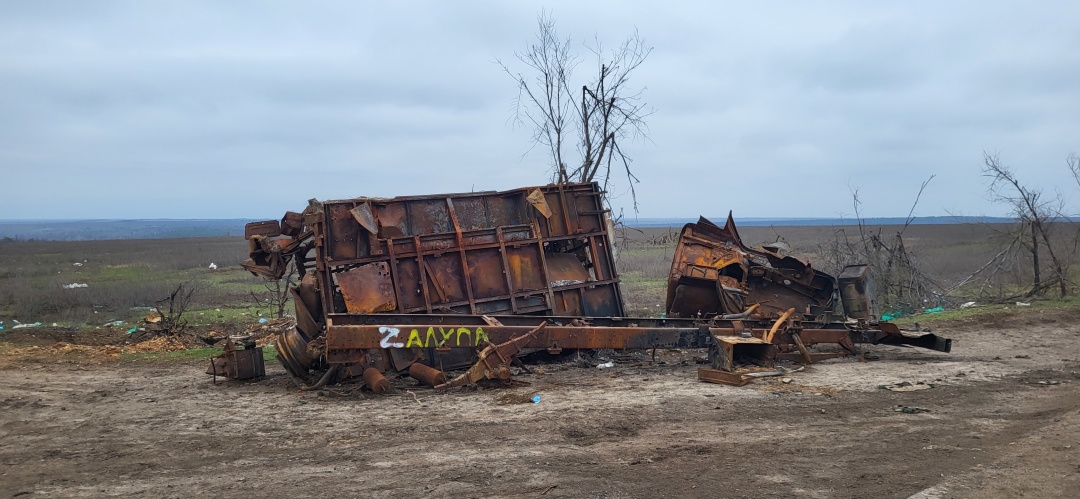 - And what will you do now? The village has been practically destroyed... Will you keep living in the village by yourself?
- I don't know yet. People call me to move to them. But I was born here, I got married here, and will probably kick the bucket here, too.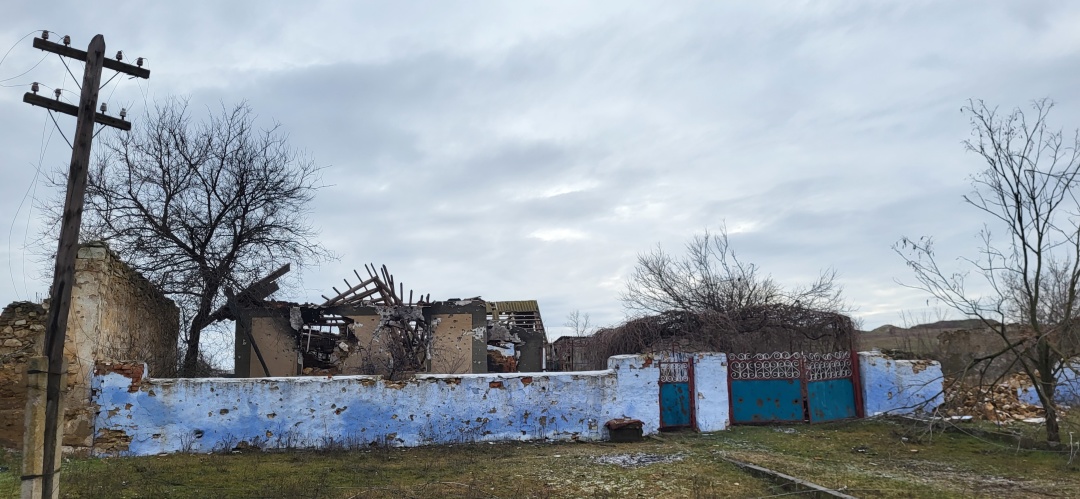 I would lead the cows away from here, and from that spot the tank would be firing at that village. And the shells would fly directly overhead. How do you think I felt? We would all fall to the ground in a second.
- But you still took your cows out to graze?
- What was I supposed to do? How was I supposed to feed them? Where was I supposed to take them? Give to the orcs?
This is where the first missile fell. I heard a whistling sound as it flew past me. So I fell to the ground, my body all shaking, the whole house seemed to have jumped up, the slates flew off… The explosive wave was huge.
The cow was thrown away, and the chain was torn off its neck, but the animal was unharmed. Perhaps just a scratch. But it was so scared that it stopped giving milk. I don't know how I restrained myself, how I didn't kill it myself.
But they shot at the cows as they were grazing. Couldn't you see that's a cow you're firing at?!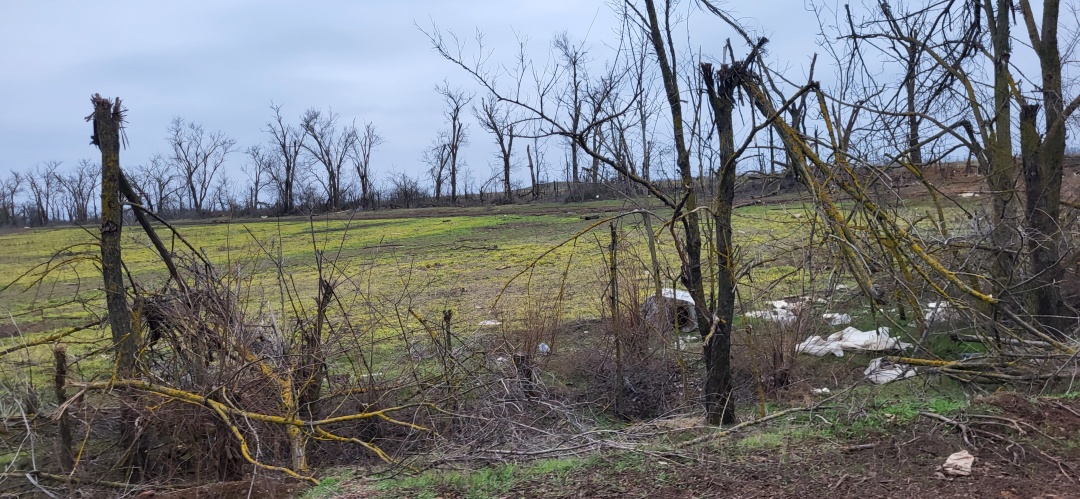 - What are your expectations now?
- What could my expectations be?! I'm alive so that's nice. Bullets aren't flying now so I thank God!
Demining is the biggest problem. Four deminers have already blown up on mines here. Then another three...
- Do you have any complaints now?
- What should I complain about? I'm alive and that's all I care about.
- Were you happy when our soldiers came?
- Why wouldn't I be? They came in the first half of the day. They sat here under the trees. I was going to feed my bees for the winter. My shepherd dog started barking, I wondered what it was all about... And then I saw these guys sporting yellow ribbons waving at me. I sat down with them.
So they ask me: Where are those Muscovites?
The man laughs…
- I was not in the village, but I knew where they were. And our guys were fearless! I say: They are out there up on the hill, they might spot you. And they go: They are no longer there.
A soldier was wounded in my garden. The group stayed until half past ten in the evening before leaving the village. They told me: Man, we won't be able to hold our ground tonight. But we will come tomorrow.
But it was only four days later that they came by bus to evacuate civilians. As one bus was driving off, another shelling began. Those old people in their 70s were running as fast as they could, out of breath, just to get on the bus...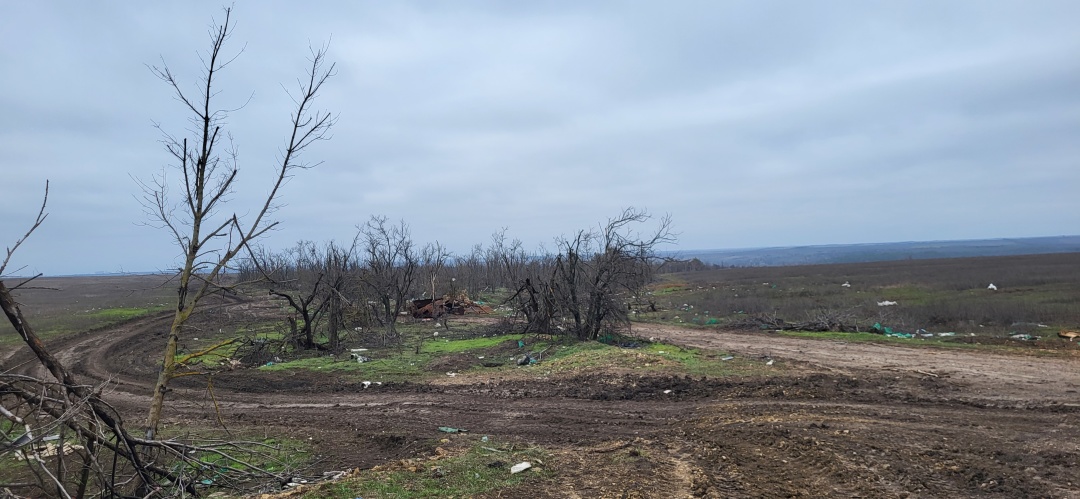 Mr. Serhiy's wife, Svitlana, comes out to us.
- You know, when our boys came into the village, I cried. They tell me: Come on, lady! ...And I go: You have no idea what it's like to see those faces for six months...
Our hosts presented us with a jar of homemade honey as a parting gift: "This is 'war' honey. Harvested under enemy fire."
We say our goodbyes with mixed feelings: how will Ukrainian villages be revived? Hope is inspired by these unpretentious, sincere patriots of their land as Mr. Serhiy and his wife Svitlana.
Oksana Klymonchuk, for Ukrinform
Photo by author and Yevhen Maksiuta