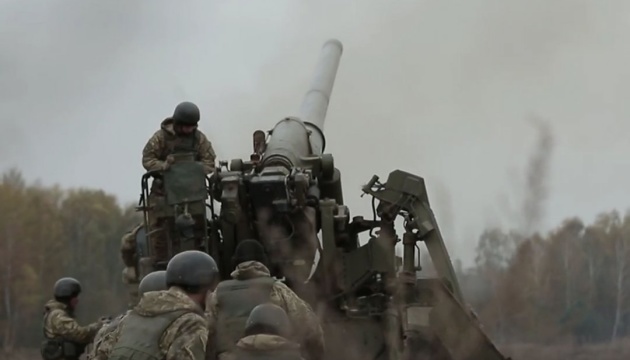 Ukrainian forces strike two Russian troop concentration areas, ammunition depot
Russian troops are concentrating their efforts in five sectors, with the invaders continuing to maintain a military presence in the areas bordering Ukraine. Ukrainian missile and artillery units struck two Russian troops concentration areas and an ammunition depot.
According to Ukrinform, the General Staff of the Armed Forces of Ukraine said this in its evening update published on Facebook.
"The enemy continues to regroup in separate areas. The main efforts are focused on conducting offensive operations in the Kupiansk, Lyman, Bakhmut, Avdiivka and Novopavlivka areas," the report reads.
Throughout the day, the aircraft of the Ukrainian Defense Forces carried out nine strikes on Russian troop concentration areas. For their part, Ukrainian missile and artillery units struck two enemy troop concentration areas and an ammunition depot.
According to the General Staff, Russian troops on Sunday launched four missile strikes. Two of them hit civilian infrastructure in Kharkiv. A five-story building of a higher educational institution was completely destroyed and five civilians were injured.
The other two Russian missile landed in Druzhkivka, Donetsk region, damaging four apartment blocks and a kindergarten. Enemy shelling left four civilians injured.
In addition, the invaders launched more than 40 attacks using multiple launch rocket systems, particularly on civilian objects in Kherson. Enemy shelling damaged residential buildings, with civilian casualties recorded.
The General Staff said that the threat of Russian forces launching further air and missile strikes throughout Ukraine remains high.
According to the General Staff, due to heavy losses in Ukraine, the invaders continue to attract medical personnel from Russia. In Pokrovske, Luhansk region, a field hospital with Russian medical personnel and surgeons has been deployed at the local dispensary.
In the temporarily captured city of Tokmak, Zaporizhzhia region, the Russian military is forcibly evicting civilians from their homes in order to accommodate local collaborators who support the invading government and work as part of enemy pseudo-law enforcement agencies. The owners are ordered to leave their homes and move out into the street.
In the settlement of Krynky, Kherson region, the invaders are carrying out raids with the aim of stealing boats, water engines and other equipment from the civilian population.