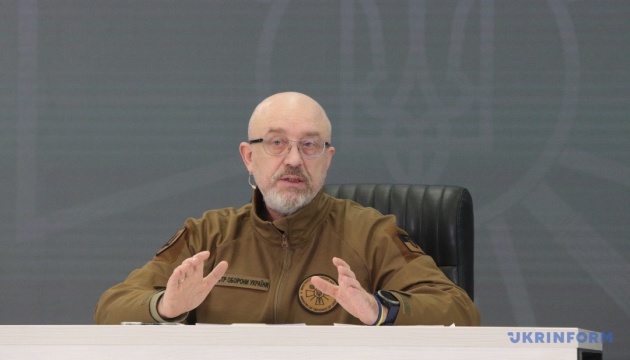 Reznikov thinks Russia will not use nuclear weapons against Ukraine
Ukrainian Defense Minister Oleksii Reznikov has said he thinks that Russia will not use nuclear weapons against Ukraine.
He said this at a press conference in Kyiv on Sunday, February 5, according to an Ukrinform correspondent.
"There has always been such a risk, but I ask myself the question every time: if they wanted to use it [nuclear weapons], what would be their goal? It seems clear - to make us fall to our knees and stop the West from helping us. However, every time the Russians do something extremely terrible - Bucha, Irpin, Mariupol - the West is starting to provide even more assistance to us, because the partners understand that the Russians must be stopped. If they are not stopped in Ukraine, they will go further and they will have to be stopped in Europe. I think the Europeans have already understood that the Russians must be stopped on the battlefield in Ukraine, with Ukraine's victory," Reznikov said.
According to him, if Russia decided to use nuclear weapons on the front lines, it would pose a danger to its own army, and if they did so in the temporarily occupied territories, it would pose a danger to the population that the Russians allegedly "protect."
"To do it inside Ukraine […] in order to demonstrate that they are so determined? It could be anywhere. And what will it give them? It will give the biggest proof that the tribunal is guaranteed for all of them, because Ukraine is not a nuclear-weapon state and, accordingly, we do not pose a nuclear threat. And the general concept of using nuclear weapons is a weapon of deterrence," he said.
At the same time, Reznikov said that the Kremlin had received a signal not to use nuclear weapons from its so-called allies, China and India.
"That's why I still remain an optimist and think it won't happen," he concluded.