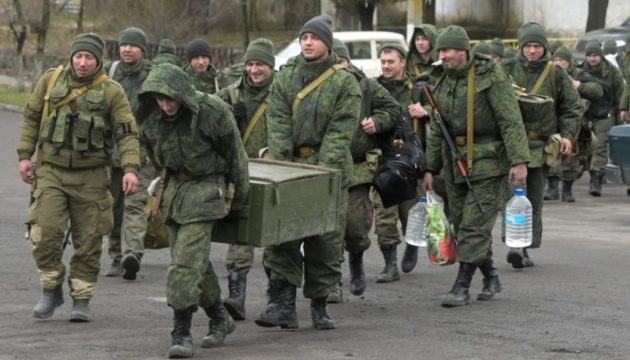 ISW: Russia unable to sustain multiple major offensive operations
Russia has not shown the capacity to sustain multiple major offensive operations.
This is stated in the report of the U.S. Institute for the Study of War (ISW), Ukrinform reports.
Analysts believe that Russian decisive offensive operations are unlikely to target Zaporizhzhia city as the invaders continue to prepare for an offensive in the west of Luhansk region.
ISW continues to observe Russian transfers of military equipment and elite units and the preparations of logistics in occupied Luhansk region that support Western, Ukrainian, and Russian forecasts for the western Luhansk region–Bakhmut offensive.
Russian forces are also intensifying attacks on Bakhmut while neglecting frontlines around Donetsk city.
"The Ukrainian military has reported that Russian forces have not massed a powerful enough strike group to conduct an offensive in the Zaporizhzhia direction," reads the report.
Russian sources have been claiming Russian forces have been making territorial gains in Zaporizhzhia region in late January, claims that ISW assesses were likely an information operation aimed at dispersing Ukrainian forces ahead of "the decisive offensive in the east."
The experts believe that Russia has not shown the capacity to sustain the multiple major offensive operations that would be necessary to simultaneously reach the Donetsk region administrative borders and take Zaporizhzhia city.
The Russian Ministry of Defense (MoD) launched a series of efforts to restructure and consolidate the mismatched blend of irregular forces supporting Russia's war in Ukraine into Russia's conventional military forces.
The ISW notes that Russian MoD might be taking some steps to integrate volunteer battalions into its framework. In addition, the Russian MoD may be rushing to integrate and professionalize irregular forces into its conventional structure while Chief of the Russian General Staff Army General Valery Gerasimov has the favor of Russian President Vladimir Putin.
As noted, Russian irregular forces in Ukraine include contract soldiers, mobilized soldiers, the so-called Donetsk and Luhansk People's Republics' forces, volunteer battalions, Russian Combat Army Reserve (BARS) forces, Cossack and Chechen units, and Wagner Group mercenaries. These formations have different objectives, limitations, pre-requisites, hierarchies, and legal statuses. The Russian MoD has initiated several professionalization efforts since Gerasimov's appointment as the Commander of the Joint Grouping of Forces in Ukraine on January 11, and it is logical that the Russian MoD would seek to cohere the current odd mix of forces into a more traditional structure. However, these integration efforts coincide with the launching of decisive offensive operations, however, and will likely generate short-term disruptions and pushback among units needed for those operations.
"Undertaking complex structural and administrative changes while launching major offensive operations is an unusual step, however appropriate the changes. Gerasimov likely feels that he has a limited window to make changes to Russian forces before the impossibility of achieving the grandiose objectives he has apparently been set causes him to lose Putin's favor once again," the report says.
As the General Staff of the Armed Forces of Ukraine reported earlier, the enemy regroups in certain directions, focusing its main efforts on offensive operations in Kupyansk, Lyman, Bakhmut, Avdiivka, and Novopavlivka directions.
ol