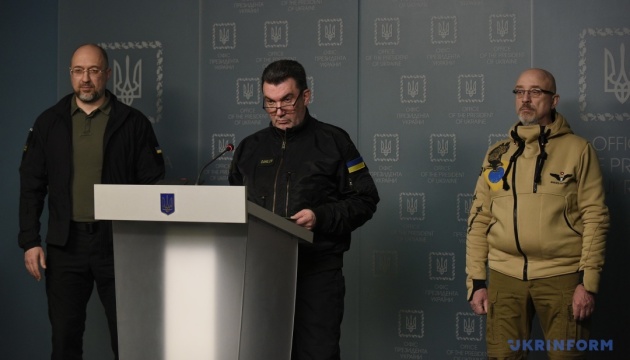 Ukraine preparing to rebuff Russia's possible offensive - Danilov
Ukraine's military and political leadership understands all the threats and challenges, and Ukraine is preparing to deliver a powerful rebuff to a possible offensive by Russia.
That's according to Oleksiy Danilov, the secretary of the Ukrainian National Security and Defense Council, Ukrinform reports, referring to the council's Facebook post.
"Ukraine's military and political leadership, he emphasized, understands all the threats and challenges, and we are preparing to deliver a strong rebuff to a possible attack by the Russian Federation. Ukrainian President Volodymyr Zelensky negotiates with his foreign colleagues every day about military aid to Ukraine. Work continues every day to strengthen our defense capabilities," the NSDC quoted Danilov as saying.
He also added that this is a challenge, but Ukraine will hold out, because the invasion on February 24 last year was much more difficult.
"We were one on one with the aggressor country. No one believed we could be able to withstand a blow. Now the situation is completely different," he said.
Danilov noted that Russia's request for military aid from Iran and North Korea shows its inability to produce the sufficient number of high-precision missiles.
According to him, it is now difficult to predict whether such assistance will come to Russia from the mentioned countries. "At least we haven't seen Iranian missiles yet," he said, adding that the missiles the enemy is firing at Ukraine are Russian-made.
Regarding the mobilization in Ukraine, Danilov recalled that it has been ongoing since February 24 last year in connection with the introduction of the legal regime of martial law in Ukraine and the implementation of the defense plan. "It is taking place in a calm, measured manner. They are calling up a sufficient number of people who are needed by the Armed Forces," he said.
At the same time, he drew attention to the fact that recently, using messengers, Russia broadcasts video content that "has nothing to do with the situation" and is aimed at discrediting the Ukrainian Armed Forces.
"Our intelligence warns that the level of Russian informational and psychological operations will grow exponentially. We need to be very careful with information. This is a challenge to the whole world, not only to Ukraine," Danilov said.