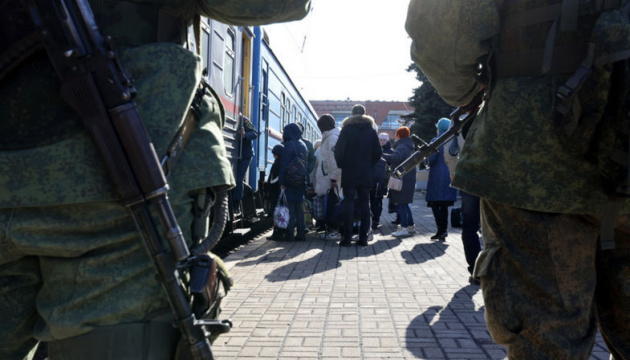 Invaders massively deporting people from Svatove district in Luhansk region
The Russian invaders massively deport people from the villages of temporarily captured Svatove district in Luhansk region, and military personnel settle in vacated houses.
"For the last few days, people have been being deported massively from Popivka, Svatove district. Other nearby settlements, in particular Svatove, have been ordered to prepare. No one asks the local population about their desire to leave, no one tells them where they are taken to and where they will live in the middle of winter. In principle, the Russians don't care. The main thing is to vacate houses for their soldiers," the Luhansk Regional Military Administration posted on Facebook.
It is noted that the invaders did something similar earlier in Pidhorivka near Starobilsk.
"For several months, the Russians lived in the houses of local residents – those who left their homes and fled the occupation and those who were deported. And when it was necessary to go closer to the frontline, the invaders took everything they wanted from the houses. The same situation was also observed in the neighboring Polovynkyne," the Administration noted.
In January, family members of the so-called 2nd army corps, namely those mobilized in the temporarily occupied territory of the region, began to be taken from Luhansk to the Russian Federation. Russians promise benefits and possible housing only in remote areas of the Russian Federation from where they flee if there is such an opportunity.
"However, according to the invaders, this step will further motivate the residents of the occupied Luhansk region to join the ranks of the Russian army. The chain of logic: they waited for Russia at home, giving up the opportunity to leave and settle wherever they want, now the big cities are closed to them," the Luhansk Regional Military Administration noted.
As reported, according to the General Staff data, on January 29, Ukrainian defenders repelled another enemy attack near Bilohorivka in Luhansk region. In Kupyansk direction, the Russians shelled the areas of Novoselivske, Stelmakhivka, and Andriivka settlements. In Lyman direction, Makiivka, Nevske, Chervonopopivka, Kreminna, and Dibrova were hit.
ol