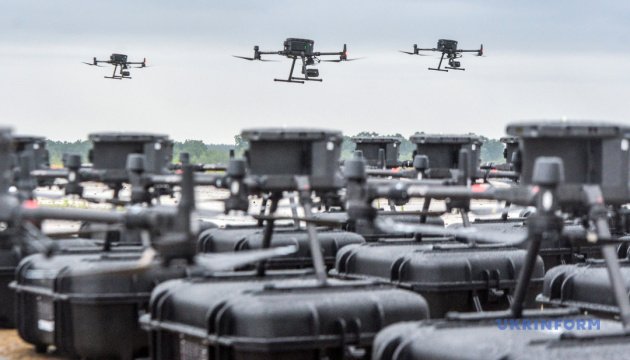 World's first drone strike companies being formed in Ukraine
The world's first strike companies of unmanned aerial vehicles (UAVs) are being formed in Ukraine.
The Ministry of Defense of Ukraine reported this on Telegram, Ukrinform saw.
The creation of strike companies was approved by the Commander-in-Chief of the Armed Forces of Ukraine, General Valeriy Zaluzhnyi, during the Supreme Commander-in-Chief's HQ meeting.
"Together with the Ministry of Defense of Ukraine, the General Staff of the Armed Forces and the State Special Communications Service s, within the framework of the Army of Drones project, a Coordination Headquarters involving key ministries and bodies was created for the full implementation of the project. This is necessary in order to implement a number of key reforms and scale up the production of UAVs in order to provide them to the Defense Forces of Ukraine," the statement reads.
The Ministry of Defense noted that the most professional servicemen who will lead the strike companies have already been selected. Each of them will receive drones and ammunition, Starlink terminals, and other equipment necessary to defeat the enemy in the front's hot spots.
The main partner for the training of strike companies is the Boryviter military school.
As reported by Ukrinform, 1,711 drones have been contracted within the framework of the "Army of Drones" project; almost 1,000 of them have already been handed over to the Ukrainian military defending the country.
This is an illustrative photo