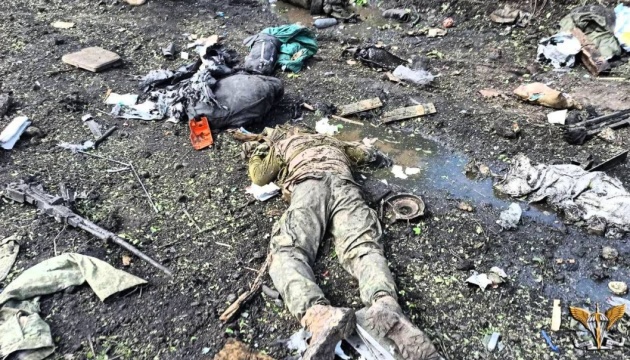 War update: 109 Russians killed in past day in Vuhledar direction
In the Vuhledar area, the Russians carried out 322 mortar and artillery strikes in the past day, at the same time suffering 109 irreversible losses.
That's according to Serhiy Cherevatyi, the spokesman for the Eastern Group of the Armed Forces of Ukraine, who spoke at the national telethon, an Ukrinform correspondent reports.
"For months, the Russian military, using motorized rifle units and marines, have been trying to achieve significant success there. But they face serious resistance from the Armed Forces and other formations of the defense forces and eventually retreat, suffering losses. In particular, during the day they carried out 322 shellings, 58 local engagements took place, in the course of which they lost 109 people killed and 188 wounded," Cherevatyi said.
The spokesman added that in this direction, the Russians lost four tanks, three IFVs, three artillery guns, and three Orlan-10 drones in just one day.
"There are fierce battles going on there. The enemy is really trying to achieve intermediate success there, but thanks to the efforts of our defense forces, they are unable to do so and, to put it mildly, exaggerate their achievements in Telegram channels," said the spokesman.
Answering the question about Vuhledar being of strategic importance in the battle of Donbas, he noted that the Russians have been trying for months to wear down Ukraine's defenses and break through in order to move on and achieve more significant gains.
"First of all, in the Bakhmut direction, and in the Avdiivka, Vuhledar directions, they constantly resort to assaults. In particular, during this day, Vodiane, Nevelske, Maryinka, and Vuhledar were the places where they tried to carry out their assault actions in order to break through our defense system," Cherevatyi said.
As reported, British intelligence cast doubt on the fact that the Russian Federation achieved any success near Orikhiv and Vuhledar, since Russian military sources are deliberately spreading disinformation.