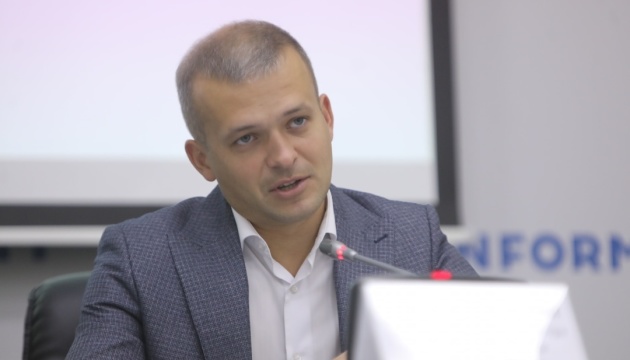 Court puts ex-deputy minister Lozynsky under round-the-clock house arrest
Ukraine's High Anti-Corruption Court has placed Vasyl Lozynsky, the former deputy minister for the development of communities, territories and infrastructure of Ukraine, under round-the-clock house arrest until March 22, 2023.
The judge read out a respective ruling in the case, Ukrinform reports.
"From today, the guard can be free. You [Lozynsky] are going to the address you mentioned here. And now you stay there and comply with all the necessary duties until this ruling is either revoked or changed," the judge said, addressing Lozynsky.
The court obliged Lozynsky to visit the investigator and the court upon request and refrain from communicating with other suspects and witnesses on the circumstances of criminal proceedings. He should also hand in his passports and wear an electronic tracking bracelet.
The prosecutor of the Specialized Anti-Corruption Prosecutor's Office earlier filed a petition with the High Anti-Corruption Court asking that Lozynsky be taken into custody with the possibility of posting UAH 50 million bail.
On January 21, detectives of the National Anti-Corruption Bureau (NABU) exposed Lozynsky and other members of an organized group as they were receiving $400,000 in undue benefits for assistance in the conclusion of contracts for the purchase of equipment.
According to the investigation, in the summer of 2022, the Cabinet of Ministers allocated UAH 1.68 billion to restore critical infrastructure and provide the population with electricity, heat and water supply. A number of officials of central and regional executive government bodies decided to embezzle part of the funds. The Specialized Anti-Corruption Prosecutor's Office claims that officials, conspiring with other persons, ensured the conclusion of procurement contracts at inflated prices with business entities. Entrepreneurs were supposed to transfer a UAH 280 million kickback to the officials for "victory" in tenders.
Subsequently, Ukraine's Deputy Prime Minister Oleksandr Kubrakov issued an order to prepare documents for Lozynsky's dismissal from the post.