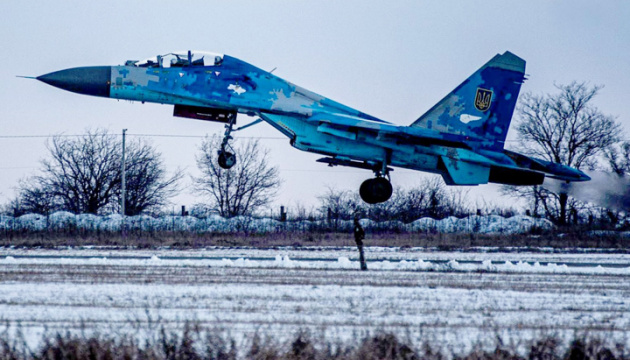 Ukrainian aircraft launch five strikes on enemy concentration areas
The aircraft of Ukraine's defense forces launched five strikes on Russian military personnel concentration areas on Monday, January 23.
The General Staff of the Armed Forces of Ukraine said this in its evening update, Ukrinform reports.
"Throughout the day, the aircraft of the Defense Forces launched five strikes on the areas where the invaders were concentrated," the report reads.
Also, Ukrainian defenders shot down two enemy Su-25 aircraft, a Ka-52 helicopter, an Orlan-10 unmanned aerial vehicle and two Kh-59 guided air missiles.
Ukrainian rocket and artillery forces hit three areas of concentration of Russian troops and a hostile logistics warehouse.
The General Staff reported that the invaders launched four missile strikes on settlements (two missiles were destroyed by Ukrainian air defenses) and 18 air strikes throughout the day. Also, the enemy launched 24 attacks using multiple launch rocket systems.
The threat of Russian air and missile strikes remains in place for all of Ukraine.
"Russian occupiers continue to die ingloriously in Ukraine. During January 20-21, the enemy carried out offensive operations in the Zaporizhzhia sector near Mali Shcherbaky. According to specified figures, as a result of a combat clash with the units of the Defense Forces, the invaders lost more than 50 people over this period, 16 of them killed. In addition, nine pieces of weapons and military equipment of various types were destroyed (a tank, six IFVs and a Tigr armored car). Another four pieces of military equipment were damaged," Ukraine's General Staff said.
Since the beginning of January this year, the number of wounded Russian servicemen in the temporarily occupied part of the Kherson region has increased significantly. Local hospitals are full. All seriously wounded are concentrated in medical institutions of the region. Only a small number are sent to the temporarily occupied Crimea for further treatment.
In a number of settlements of the Sievierodonetsk district, Luhansk region, the Russian occupiers are trying in every way to isolate the local population informationally, in particular, by blocking Ukrainian television and mobile communications.