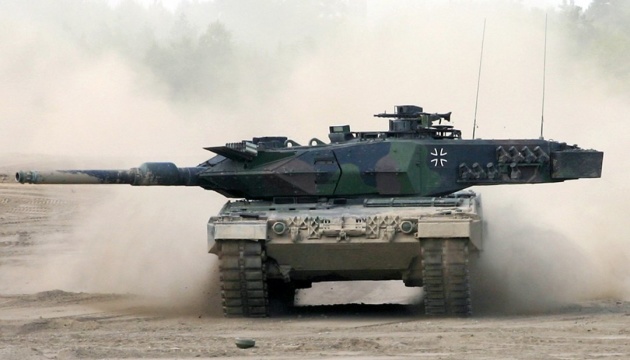 No decision on tank supplies to Ukraine approved at Ramstein meeting, could be passed soon
The participants in the Ukraine Defense Contact Group meeting in Ramstein, Germany, failed to approve a decision to supply main battle tanks to Ukraine.
This was stated by the newly-appointed Minister of Defense of the Federal Republic of Germany, Boris Pistorius, who spoke after the Group's 8th meeting, adding that such a decision could be adopted quite soon, an Ukrinform correspondent reports.
"Of course, we talked about possible deliveries of Leopard tanks. I must clearly state that there is no unanimous opinion," the minister said.
He decried as wrong the assumption that a strong coalition of states has been created, and that Germany stands in their way. According to the minister, there are arguments "for" the supply and arguments "against" put forward by various parties. In the time of war, all of them must be taken into account.
Pistorius, however, did not rule out that a consensus on Leopard tanks will be reached, stopping short of making predictions on when this might happen.
"I am absolutely sure that a decision will be made in the near future. But I don't know what it will be like," said the politician.
In any case, according to the minister, it is necessary to prepare in order to be able to react quickly if a positive decision is made. The minister assured that he would issue an order to clearly find out where, how many, and in what condition there are tanks of various types.
"If a decision is made - in a week, in two weeks or in a day - we have to be able to act quickly ... We are preparing," Pistorius said.
At the same time, he did not agree with the statement that Germany is reluctant. Berlin, according to him, "weighs all the pros and cons very carefully because one must be careful in view of possible consequences and obligations to one's own population."
At the same time, Pistorius assured that "Germany will not stand in the way of partners", although, according to him, the issue of permission from Berlin for such supplies was not discussed at the meeting. He also added that he cannot give any permits, because this is the task of the chancellor and other ministries.
Pistorius answered negatively when asked if he thought that delays could lead to Ukraine's defeat: "No. Because we will pass a decision as soon as possible. And we already support Ukraine in large volumes and will continue our support as long as necessary, until the war ends."
Pistorius held a separate bilateral meeting with his Ukrainian counterpart, Minister of Defense Oleksii Reznikov, which he called "very pleasant."
As reported by Ukrinform, the eighth meeting of the Ukraine Defense Contact Group was held at the Ramstein Air Base in the German state of Rhineland-Palatinate.