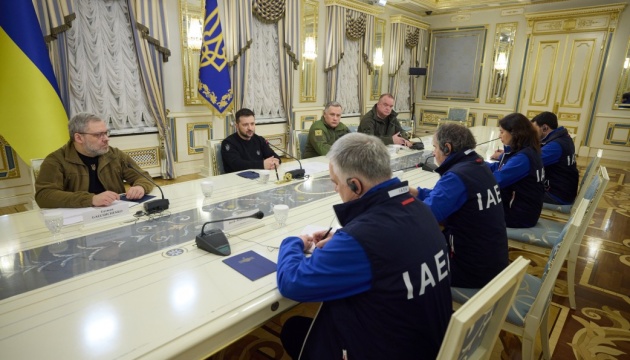 Zelensky meets with IAEA Director General
President of Ukraine Volodymyr Zelensky met with Director General of the International Atomic Energy Agency Rafael Grossi, who is on a working visit to Ukraine.
According to the President's Office, Zelensky emphasized the active role of the IAEA in resolving issues related to nuclear safety that is extremely important against the background of the war launched by Russia against our country.
The President also stressed the inadmissibility of continuation of shelling of Ukrainian nuclear energy facilities by the Russian aggressor.
In this regard, Volodymyr Zelensky commended the deployment of the Agency's inspectors at Ukrainian NPPs: "I know that our teams are working to strengthen the safety of nuclear infrastructure. Thank you for the positive decision to deploy inspectors at our nuclear power plants. This is very important."
The President of Ukraine expressed hope that such IAEA missions would prevent further shelling of Ukrainian NPPs by Russia.
During the meeting, special attention was paid to the situation at the Zaporizhzhia NPP, which is still under temporary Russian occupation.
Zelensky noted the importance of the efforts of the IAEA Director General aimed at explaining to the member-states of the Agency the violations of nuclear safety standards by the aggressor and explaining to the world community the necessity of the speedy de-occupation of the Zaporizhzhia NPP.
The President of Ukraine also noted the need for the presence of IAEA inspectors at ZNPP and emphasized that the Ukrainian side is doing everything to ensure their safety.
As reported, IAEA Director General Rafael Mariano Grossi has arrived in Ukraine to ensure a continuous presence of nuclear safety and security experts at all the country's nuclear power facilities.
On March 4, the Zaporizhzhia NPP was seized by the Russian military. Since then, the Russians have been placing military equipment and ammunition in the plant's territory and shelling the surrounding area.
Photo: President's Office