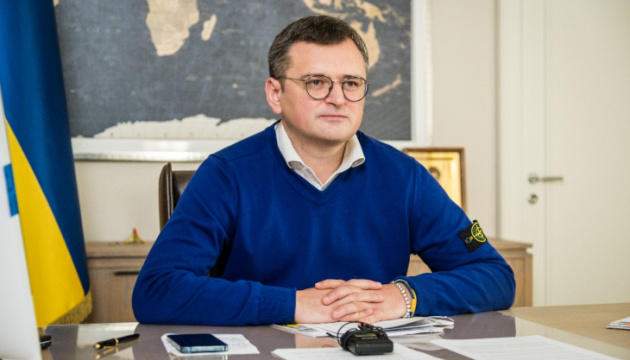 It remains to unblock supply of fighter jets, long-range missiles - Kuleba
So far, it has been possible to unblock the provision of almost all types of weapons to Ukraine by partners, except for fighter jets and long-range missiles.
This was stated by the Minister for Foreign Affairs, Dmytro Kuleba, who spoke at a panel discussion at the Ukrainian House in Davos, Switzerland, an Ukrinform correspondent reports.
Kuleba admitted that "it takes time" and that Ukraine would wish that partners decided quicker, but at the end of the day, Ukraine is getting everything the country was asking for, except for two big things that haven't been fundamentally unblocked yet – "western fighter jets and long-range missiles."
Kuleba noted that at the outset of a full-scale war, almost all conversations with potential supplier countries began with denial, especially when it came to the most sophisticated types of weapons. As an example, he cited Sweden and its decision to provide Ukraine with Archer self-propelled artillery systems. The head of the MFA considers the transfer of tanks to be another unblocked issue, which required significant efforts on the part of diplomacy and diaspora.
When the supplies of long-range missiles and aircraft are unblocked, of which Kuleba is positive, Ukraine's list of the most necessary weapons will be completed, the minister concluded.
In addition, he stated that Ukraine is aware of Russia's intentions to win on the battlefield, but the main goal remains unchanged for Ukraine, which is complete deoccupation of its entire territory.
The head of the Ministry of Foreign Affairs added that he would be ready to uncork a bottle of champagne to Ukraine's victory only when the last square centimeter of Ukrainian territory returns under Ukraine's control.
The head of Ukrainian diplomacy noted that many others goals are added to the main one, including justice, reparations, post-war reconstruction, and guarantees that Russia will not repeat aggression.
But without regaining territory, none of other goals will be attainable, the minister believes.
According to Kuleba, he is often asked whether the restoration of Ukraine's territorial integrity includes Crimea.
When journalists ask such questions, Kuleba stressed, they unwittingly reinforce the Russian narrative that Crimea is something special, that there is a territory of Ukraine and the territory of Crimea. This should not be the case, he underlined.
There should be one simple approach: Crimea is no different from Kherson, Donetsk, Luhansk, Kharkiv, Kyiv or any Ukrainian city, Kuleba noted.
As Ukrinform reported, on January 16, British Defense Minister Ben Wallace announced during an address to the House of Commons that the largest package of military aid is being allocated to Ukraine. This includes the transfer of a company of Challanger 2 tanks, AS90 self-propelled guns, 100 armored vehicles, a demining package, dozens of UAVs, 100,000 artillery shells, and hundreds of "advanced missiles" including Starstreak.