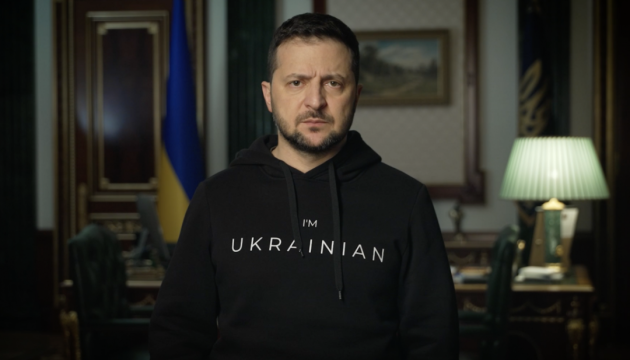 President of Ukraine: World knows what Russia has done to Dnipro and other territories it brought death to
The world hears Ukraine in Davos – they know what Russia has done to Dnipro, they know what terrorists are doing to Kherson, Kharkiv, Ukraine's Donbas and other territories that Russia brought death to.
The relevant statement was made by Ukrainian President Volodymyr Zelensky in his video address, an Ukrinform correspondent reports.
The full text of the speech is provided below:
Fellow Ukrainians!
Today the rescue operation in Dnipro has been completed.
79 people were wounded or injured by this Russian strike.
The list of the dead includes 45 Ukrainians, including 6 children, including a boy who was only 11 months old…
Children and civilians are enemies for Russia. Obviously, this could only happen because Russia has turned into an enemy of all mankind.
I thank each and every person in the world who helps us to defend ourselves against terror!
Today we heard very important news from Prime Minister of the Netherlands Mark Rutte. The news is actually a continuation of our recent negotiations with him.
Ukraine will be provided with another Patriot battery. Thank you, Mark! That is, we already have three guaranteed batteries. But this is only the beginning. We are working on new decisions to strengthen our air defense.
Today, I discussed defense cooperation with Federal President of Germany Steinmeier. We are actively preparing for a new meeting in the Ramstein format. We are preparing new important diplomatic steps - we also discussed them today.
The annual forum in Davos, traditionally a powerful global political and economic platform, has started today.
The world hears Ukraine in Davos - they know what Russia has done to Dnipro, they know what terrorists are doing to Kherson, Kharkiv, our Donbas and other territories Russia brought death to.
And we are lobbying for increased global pressure on the terrorist state.
I am confident that following this week, the world will see more active and influential supporters of the establishment of a Tribunal for Russian aggression and a special mechanism to compensate for the losses from the war at the expense of Russian assets.
It is very important that the First Lady of Ukraine presented all the elements of our Peace Formula in Davos today, including the fundamental clause on justice, which envisages full liability of Russian terrorists for everything they have done.
And the world's support for our diplomatic initiative is very much felt.
We are doing everything to ensure that this support becomes truly global and that steps to end Russian aggression and return security are taken by all influential actors in international relations.
Today, I held a meeting with the participation of the Prosecutor General and the Minister of Internal Affairs of Ukraine to identify the culprits of the attack on Dnipro.
Every day there is more and more factual information and legal steps of our state. And all this will end with sentences for all these Russian murderers.
I want to thank all the employees of the Ukrainian law enforcement agencies and all our partners, our intelligence, all special services that are working on the necessary materials for trials against rashists.
I would like to thank all volunteers, public figures, especially journalists who are helping the investigation.
And, of course, I thank all our warriors, each and every one of them who defends the state as part of all our defense and security forces, who is doing everything to oust the Russian army from Ukraine.
First of all, I thank the warriors who are now at the front, who are fighting for our freedom, who are true heroes!
When we oust the occupiers from our land, it will be a matter of time when justice will return, when sentences for Russian murderers will be pronounced.
Glory to all our heroes!
Eternal memory to all those whose lives were taken by Russian aggression.
Glory to Ukraine!
Video: Office of the President of Ukraine