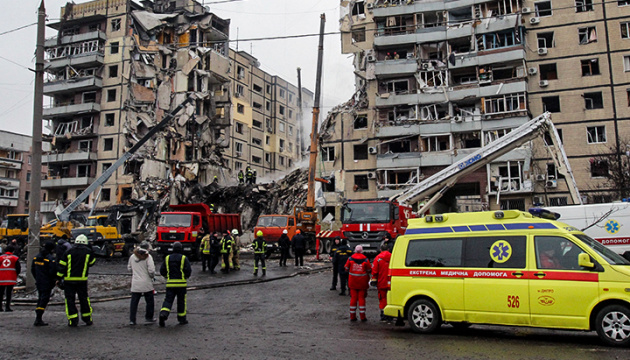 Missile attack on Dnipro: Death toll up to 40, including three children
The number of people killed as a result of a Russian missile attack targeting an apartment high rise in Dnipro has increased to 40, including three children.
That's according to the State Emergency Service of Ukraine, Ukrinform reports.
"As of 13:00, 39 people have been rescued (including six children), 40 have died, including three children, 75 have been injured (including 14 children), and 46 are reported as missing," the statement reads.
Psychologists with the State Emergency Service provided assistance to 98 victims.
Search and rescue operations are ongoing. Since the strike, municipal services have removed from the site more than 8,000 tonnes of construction debris and 41 damaged vehicles.
A total of 544 people and 75 pieces of equipment were involved in the operation, including 114 personnel and 24 vehicles of the State Emergency Service.
As reported by Ukrinform, on January 14, a Russian missile hit a block of 72 apartments in the city of Dnipro, where up to 200 people resided, including 50 children.