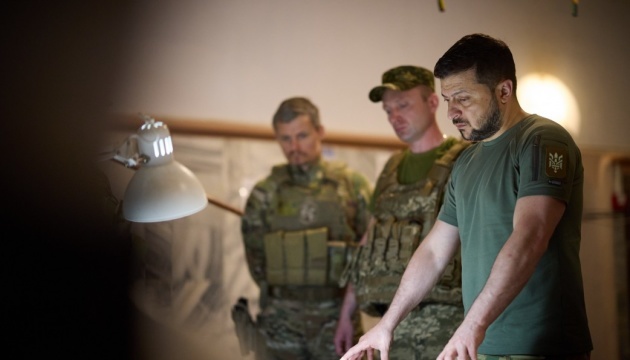 Fierce fighting for Donetsk region ongoing - Zelensky
Fierce fighting for Donetsk region is ongoing. The enemy has focused their largest forces in this direction, but Ukrainian defense and security forces carrying out their tasks.
President Volodymyr Zelensky said this in his video address to the nation, Ukrinform reports.
"The tough battle for Donetsk region continues, the battle for Bakhmut and Soledar, for Kreminna, for other towns and villages in the east of our country continues. Although the enemy has concentrated its greatest forces in this direction, our troops – the Armed Forces of Ukraine, all defense and security forces – are defending the state," the President said.
He thanked every soldier, sergeant, officer of brigades and other army units who are bravely and staunchly performing their tasks.
Zelensky also thanked the fighters of the Kraken unit for their decisive actions to destroy the enemy near Soledar, as well as the soldiers of the International Legion of the Defense Intelligence of the Ministry of Defense and the Shaman unit, who are bravely defending Bakhmut.
"Three hundred twenty-four days of the full-scale war, and how things have changed for Russia... They are already gnawing among themselves over who should be credited with some tactical advance. It's a clear signal of failure for the enemy. And it's another incentive for all of us to put more pressure on the occupier and to inflict heavier losses on the enemy. Thanks to everyone who makes it happen both on the front lines and all our other fronts," Zelensky said.
He also marked the employees of the Foreign Intelligence Service of Ukraine - "those whose work is usually completely invisible. And about whom few people talk. But they really bring closer very important decisions of partners for Ukraine, for our defenders." He also thanked the personnel of the Security Service of Ukraine, "whose results in the fight, in particular, against collaborators and saboteurs, society sees."
"Every step of the state in national defense is carefully prepared, and this gives us legal and fair results. This gives us a real increase in our independence, in all its aspects," he stressed.
As reported by Ukrinform, the General Staff said that the enemy struck 11 settlements in the Bakhmut direction. Battles for Soledar are ongoing.
Photo: President's Office
iy