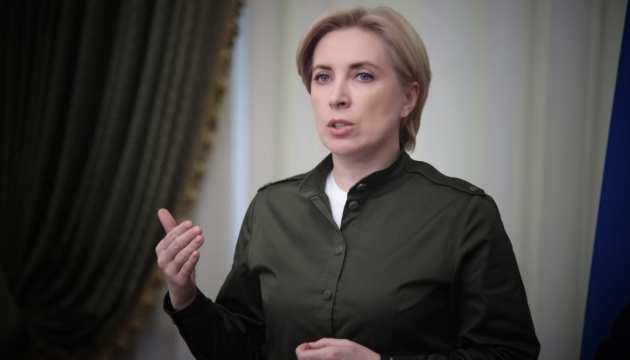 Russia preparing new wave of deportation of Ukrainians – Vereshchuk
Russia's plans to deport Ukrainian citizens from the temporarily occupied territories of Ukraine, in particular Kherson region, are an act of genocide, and both those who approved such decisions and those who executed them will bear responsibility for this.
Deputy Prime Minister - Minister for Reintegration of the Temporarily Occupied Territories Iryna Vereshchuk said this on the air of nationwide telethon, Ukrinform reports.
"Our intelligence sources confirm that Russia is really trying to commit another act of genocide, I won't even call it a deportation, because the forced, violent removal of Ukrainian citizens is an act of genocide, and of course, they [Russians] will be held accountable for this. I would like to appeal to high-ranking officials of the enemy state so that they think carefully before doing this, because everyone will be held accountable - from those who approved such decrees to the driver who forcibly took Ukrainians to the territory of Russia," said Vereshchuk.
The deputy prime minister added that the occupiers are in a hurry, as they understand that the de-occupation of Ukrainian territories will take place and they will not be able to hold Kherson region. According to her, the occupiers are removing Ukrainians to almost all regions of Russia.
"We have information that our Ukrainians have been resettled in 57 regions of Russia, including the Far East and Siberia. And we really find Ukrainians in all corners of Russia. We're recording these facts and it is obvious that this will be the basis of a special tribunal and the basis of charges against Russia and its officials," said Vereshchuk.
As reported, according to Bloomberg, the Russian Federation is planning to allocate 175 billion rubles for organizing the deportation of 100,000 people from Kherson region.
iy