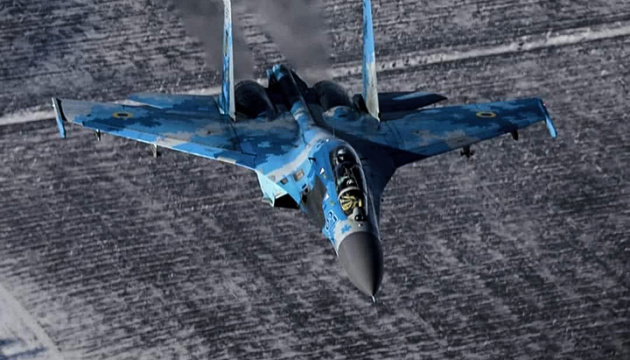 Ukrainian forces launch 18 air strikes on enemy, hit two Russian command posts
During the current day, the Air Force of the Armed Forces of Ukraine launched 14 air strikes on the areas of concentration of enemy manpower, weapons and military equipment, as well as four strikes on the positions of anti-aircraft missile systems.
The General Staff of the Armed Forces of Ukraine said this in its operational update as of 18:00 on January 10, published on Facebook, Ukrinform reports.
In turn, units of the rocket troops and artillery of the Defense Forces of Ukraine inflicted fire damage on two command posts, two positions of rocket troops and artillery, as well as five areas of concentration of enemy manpower and military equipment of the Russian invaders.
According to the General Staff, to maintain the offensive and replenish the losses in manpower, the invaders continue to carry out mobilization measures.
"The enemy does not stop striking, carrying out artillery fire on critical infrastructure and civilian homes throughout the territory of Ukraine, violating the norms of International Humanitarian Law, the laws and customs of war," the report says.
During the current day, the enemy launched two missile strikes and seven attacks using multiple launch rocket systems, including on the civilian infrastructure of the cities of Donetsk and Kharkiv regions.
The General Staff stressed that there is still a threat of enemy air strikes and missile attacks on critical infrastructure facilities throughout Ukraine
The enemy continues to shell the positions of Ukrainian troops and civilian objects along the entire contact line.
At the same time, according to the General Staff, the Russian invaders continue to suffer losses. According to available information, hospitals in Berdiansk, Zaporizhzhia region, are full of wounded soldiers. Therefore, the Russian troops have set up three more military hospitals over the past week.
As reported by Ukrinform, the Armed Forces of Ukraine eliminated about 112,470 Russian troops in Ukraine from February 24, 2022 to January 10, 2023, including 710 soldiers on January 9.
iy