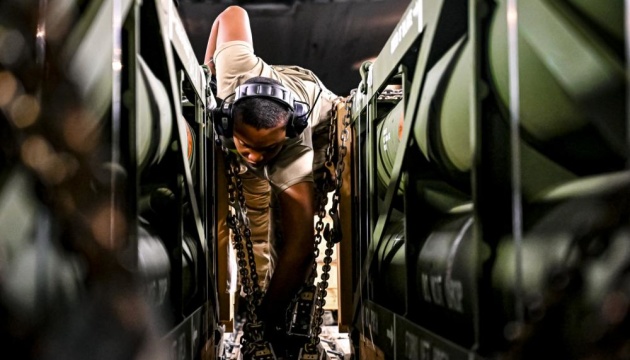 Pentagon reveals details of latest security aid package to Ukraine
The Biden administration announced a new $3 billion package of military assistance for Ukraine that will include Bradley Fighting Vehicles and Paladin howitzers, Sea Sparrow air defense missiles, and much more.
That's according to Laura Cooper, the deputy assistant secretary of defense who has led the Pentagon's military aid program to Ukraine, an Ukrinform correspondent reports.
Karine Jean-Pierre, the White House press secretary, said the administration would also send $682 million to countries on NATO's eastern flank, some of which have shrunk their own arsenals to contribute more military equipment to Ukraine, according to NYT.
Ukrainians have requested the infantry fighting vehicles as they continue to push back against the forces of President Vladimir Putin of Russia. Officials said the vehicles would help in what the military calls combined arms maneuvering, which refers to the close coordination of air power, artillery and ground forces in operations.
"It's a lot of farmland, a lot of open ground and it lends itself well to the kinds of capabilities that are in this" package, said John Kirby, the strategic communications coordinator for the National Security Council. "The Bradley Fighting Vehicles are very significant in terms of being able to do what we call combined arms maneuver warfare."
The provision of the armored vehicles was forecast in a joint statement by the United States and Germany on Thursday, and comes amid a flurry of announcements of new aid from Ukraine's allies, including France.
In a briefing to reporters Friday afternoon, Pentagon's Laura Cooper offered details on the package of weapons, ammunition and vehicles — the 29th drawdown of Pentagon equipment since August 2021 — and $225 million in foreign military financing for Ukraine.
The most significant items to come from Pentagon stockpiles are 50 M2A2 Bradley Infantry Fighting Vehicles, with 500 TOW anti-tank missiles and 250,000 rounds of 25-millimeter ammunition for them to fire.
The Bradley is designed to carry a squad of a half-dozen soldiers into battle and offer them fire support with its turret-mounted 25-millimeter gun. It also carries TOW missiles that can destroy enemy tanks, and the vehicle's hull is wrapped with advanced armor blocks to protect it from incoming fire. Some versions of the vehicle are equipped with laser range-finders and thermal optics to help the crew of three soldiers find targets they can engage — which would offer Ukrainian troops an advantage on the battlefield.
For the first time, the U.S. will provide 18 Paladin self-propelled howitzers, along with an unspecified number of 155-millimeter shells for them to fire. The Pentagon will also send 36 more 105-millimeter towed howitzers along with ammunition.
The U.S. will send 4,000 Zuni rockets — eight-foot long unguided rockets fired by warplanes that can carry about 10 pounds of explosives, and American RIM-7 Sea Sparrow air-defense missiles that Ms. Cooper said had been adapted to work with Ukraine's Soviet-era Buk missile launchers.
"It is a creative solution that did require some engineering finesse," she said of adapting the American missiles for Russian-made launchers. "But we're very pleased that it will work for the Ukrainians."
The Pentagon will send 100 more M113 armored personnel carriers, in addition to the 200 already committed to Kyiv, and 138 more Humvee trucks added to the 1,300 the U.S. has already sent.
"As you look at the U.S. and the international response by providing the equipment, and importantly now the training that we're providing, it does afford Ukraine an opportunity to change the equation on the battlefield and gain momentum and not only defend their territory but hopefully take back territory," Brig. Gen. Patrick S. Ryder, a Pentagon spokesman, said to reporters at the briefing with Ms. Cooper. "And so this is part of that ongoing effort to support them in that larger campaign."