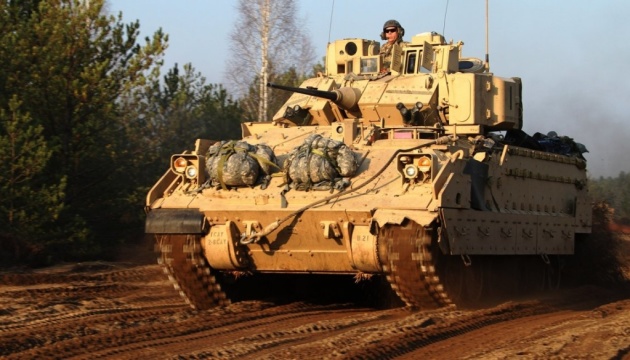 US announces more than $3B in military assistance for Ukraine
The United States is providing Ukraine with a new military assistance package worth more than $3 billion, which includes, among other things, the Bradley infantry fighting vehicles, armored personnel carriers, self-propelled howitzers, missiles, and ammunition.
White House Press Secretary Karine Jean-Pierre said this at a press briefing in Washington on Friday, according to an Ukrinform correspondent.
"Today, the United States will demonstrate our continued enduring commitment to Ukraine's ability to defense itself with the announcement of over $3 billion in new military assistance to Ukraine," she said
She clarified that this amount includes a $2.8 billion Presidential Drawdown for Ukraine. The package is expected to include the Bradley infantry fighting vehicles, self-propelled howitzers, Mine Resistant Ambush Protected Vehicles, other armored personnel carriers, GMLRS, surface-to-air missiles, ammunition, and more.
In addition, she said, the United States is providing $225 million in foreign military financing for Ukraine to build the long-term capacity and support modernization of Ukraine's military.
Jean-Pierre also announced that the United States is providing $682 million to regional partners and allies on NATO's eastern flank to incentivize and backfill donations of military equipment.
Photo: DoD US