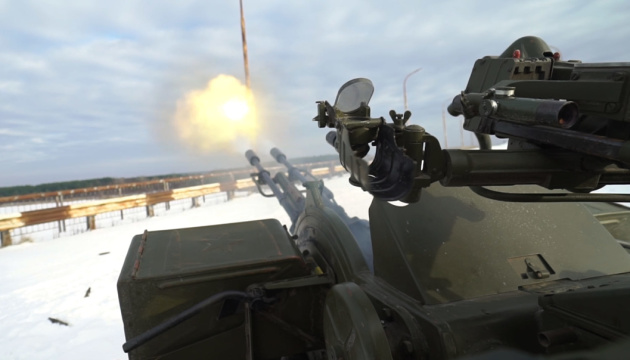 Ukrainian forces shoot down about 500 Iranian-made kamikaze drones since September - Ignat
The Ukrainian air defense forces destroyed all 84 drones launched by Russia in the past massive drone attack during New Year holidays. Overall, the Ukrainian Armed Forces have shot down almost 500 enemy drones since September 2022.
Yuriy Ignat, spokesman for the Air Force Command of the Armed Forces of Ukraine, said this during a nationwide telethon on Ukrainian TV channel, an Ukrinform correspondent reports.
"If they are going to bombard at such a pace as during those two nights, then according to the information already announced by our certain special services and intelligence about a new batch of 250 [drones], at least half of them have already been used," Ignat said.
He added that such figures should not mislead, as the Russian Federation can receive the next batch of drones from Iran. However, Ukraine is preparing for new Russian massive attacks.
"We will prepare. We shoot down drones. As you can see, 84 drones were shot down in two days – on New Year's Eve and the following day. 100% [of the drones] were shot down by air defense forces. Such results have never been achieved before. The number of drones is already approaching 500 since September 11. That is 500 drones shot down. The same with cruise missiles but little less. I count attacks on Ukraine's critical infrastructure since September 11," the spokesman said.
Ignat also noted that the enemy is deliberately increasing the use of cheap Iranian drones in order to wear down Ukraine's air defenses and exert psychological pressure on citizens.
As reported by Ukrinform, President of Ukraine Volodymyr Zelensky has said that Russia is planning a prolonged terrorist attack with Iranian-made Shahed drones, in an attempt to exhaust Ukraine's air defenses.
Photo: 120th Territorial Defense Brigade of Ukraine's Armed Forces
iy