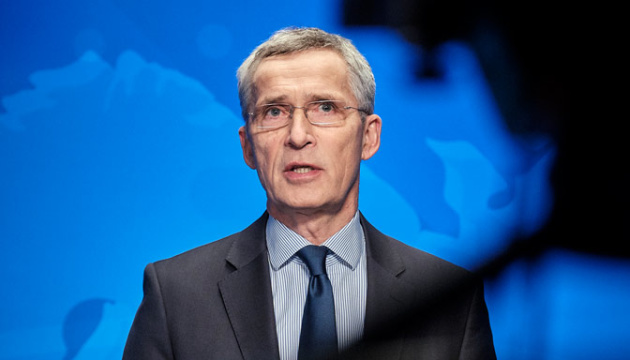 Fastest way to peace in Ukraine lies through supplying more arms - Stoltenberg
The shortest way to peace is about supplying Ukraine with more weapons as the possible search for a peaceful solution to Russia's war of aggression on Ukraine at the negotiating table will fully depend on the situation on the battlefield.
That's according to NATO Secretary General Jens Stoltenberg, who spoke with DPA, Ukrinform reports.
"It may sound like a paradox, but military support for Ukraine is the fastest way to peace. We know that most wars end at the negotiating table - probably this war too - but we know that what Ukraine can achieve in these negotiations depends inextricably on the military situation. So if you want a negotiated peaceful solution ensuring that Ukraine prevails as an independent democratic state, the best way of achieving that is to provide Ukraine with military support. That's the way to convince President Putin that he will not achieve his goal of taking control over Ukraine," Stoltenberg said.
He chose not to provide a direct answer to DPA's question on whether NATO allies are ready to give Ukraine medium-range missiles and tanks, while noting that the allies "have already supplied Ukraine with long-range weapon systems, for example, HIMARS rocket launchers and long-range artillery."
"Drones and armored vehicles are also being provided," he noted, adding that there is an "ongoing dialogue between allies and with Ukraine on the specific systems," both within the NATO and U.S.-led Ramstein formats.
"Of course, I call on allies to do more. It is in all our security interests to make sure Ukraine prevails and Putin does not win. But it is not just about providing more weapons systems. Perhaps even more important is that there is enough ammunition for the systems already in place. The need for ammunition and spare parts is enormous," said Stoltenberg.
As reported, NATO and individual allies have been providing substantial political, practical, and military assistance to Ukraine since the invasion. The Alliance supplies Ukraine with non-lethal equipment, fuel, medicines, personal protective equipment, winter clothing, and anti-drone systems.
At the same time, most of the weapons systems and ammunition come from NATO allies and partner countries in the format of the Ramstein Conference in support of Ukraine. As part of this initiative, which was launched by the United States, more than 50 democracies, including NATO allies, rallied around practical armed assistance to Ukraine, to ensure its right to self-defense amid Russian aggression, in accordance with the UN Charter.