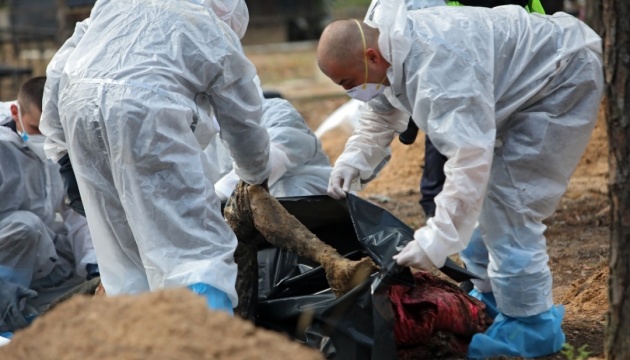 Bodies of seven more civilians exhumed in de-occupied part of Mykolaiv region
In the de-occupied Snihurivka district of the Mykolaiv region, the police have exhumed the bodies of seven more civilians who were buried with violations during the Russian occupation.
That's according to the regional police, Ukrinform reports.
According to the report, in the village of Tsentralne, an 82-year-old woman died as a result of an enemy projectile hitting her yard. Due to the occupation of the village, her relatives buried her in a garden near her house.
In addition, the body of a convict who was serving a term in a local penal colony and died of an illness was exhumed from the yard of the institution.
In the land plot of a private house in the village of Vavilove, law enforcement officers discovered a burial site of a 64-year-old local woman who died of an illness.
In the village of Liubomyrivka, a local resident who was killed in shelling was exhumed - his wife buried him in the yard.
Local residents buried three more dead people at the local cemetery.
"Law enforcement officers exhumed the deceased and sent their bodies for forensic examination. After establishing the final cause of death, the bodies were returned to relatives for reburial according to all customs," the police said.
Earlier reports said that the police had exhumed the bodies of three teenagers in the Mykolaiv region.