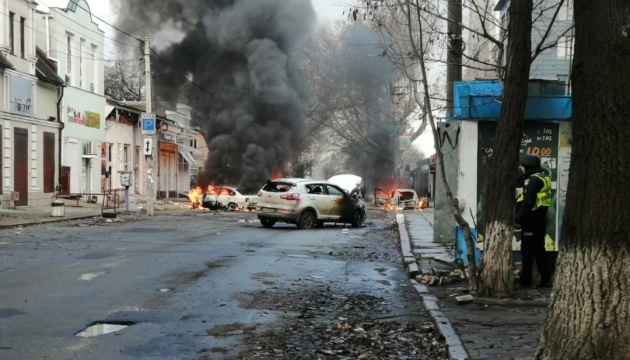 Kherson strike: Update says 68 civilian casualties confirmed
As a result of the latest shelling of Kherson by Russian invasion forces, at least 68 civilian casualties were confirmed today.
This was announced by the chief of the Kherson Regional Military Administration, Yaroslav Yanushevych, via Telegram, Ukrinform reports.
"As of now, we are aware of 68 casualties as a result of today's attack by the Russian occupiers on the Kherson region. In Kherson, the Russian army killed 10 people," Yanushevych said.
He again called on the residents of the region to evacuate – especially those living at the Dnipro riverside, as these areas suffer from shelling the most and there is practically no way to ensure stable heating and electricity supply.
"For internally displaced persons from Kherson region, there are places to live for free in other regions. Kherson RMA is ready to help you resettle so call our hotline," Yanushevych noted.
As reported, in the morning of December 24, Russian troops shelled the central part of Kherson, killing 10 and injuring 55. Eighteen of those injured remain in grave condition, reports said.
Photo: State Emergency Service of Ukraine