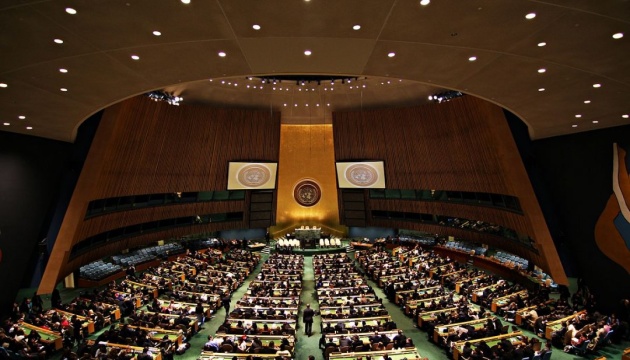 UN General Assembly adopts updated resolution on human rights violations in Crimea
The UN General Assembly adopted the resolution on "Situation of human rights in the temporarily occupied Autonomous Republic of Crimea and the city of Sevastopol, Ukraine," taking into account the conditions that arose with the beginning of Russia's large-scale invasion.
According an Ukrinform correspondent in New York, 82 countries voted in favour, 14 against, and 80 abstained.
In particular, Belarus, China, Cuba, North Korea, Eritrea, Ethiopia, Iran, Kazakhstan, Mali, Nicaragua, Russia, Sudan, Syria, Zimbabwe voted against.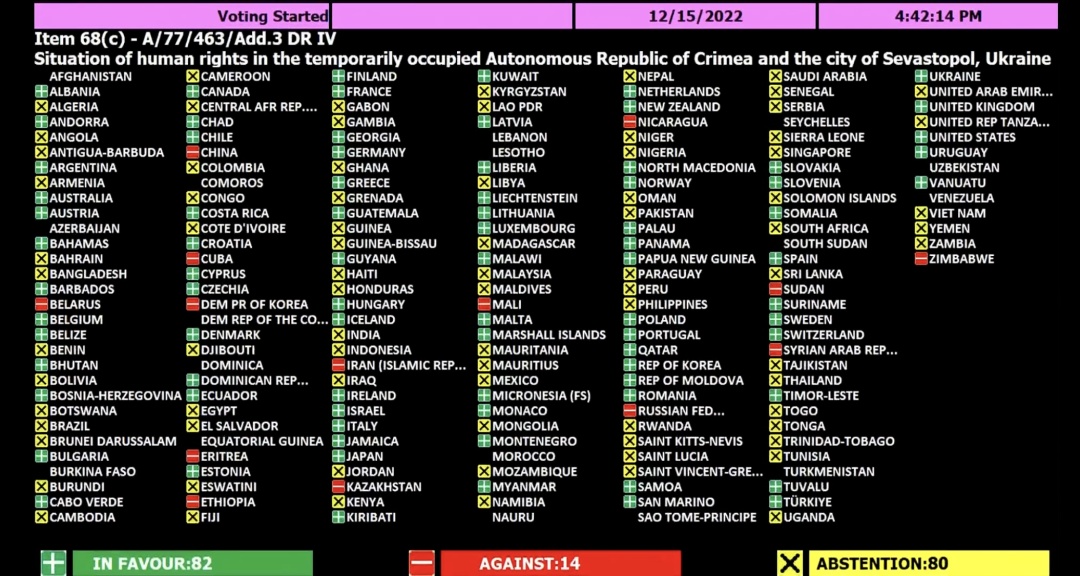 In addition to the provisions of the previous years' resolutions on human rights in Crimea, the current document condemns Russia's use of Crimea for the purpose of aggression against Ukraine and for supporting attempted illegal annexation of Kherson and Zaporizhzhia regions.
The General Assembly condemns the incitement of hatred against Ukraine and Ukrainians, as well as the spread of disinformation, which justifies the aggression of the Russian Federation against Ukraine, including through the education system.
The General Assembly strongly condemns the new unprecedented wave of arbitrary detentions in Crimea, forced displacements to and from Crimea, enforced disappearances, as well as the so-called filtration procedures, in particular regarding displaced persons.
The Assembly demanded that the Russian Federation immediately end all violations of human rights and international humanitarian law against residents of the temporarily occupied Crimea.
The General Assembly also demands an end to the forcible deportation of Ukrainian children to Russia and to take the necessary measures for their safe return and reunification with their families.
The resolution reminds all states and international organizations of the need to call the authorities of the Russian Federation and their representatives in Crimea "the occupying power of the Russian Federation."
The resolution of the UN General Assembly "Situation of human rights in the Autonomous Republic of Crimea and the city of Sevastopol, Ukraine" is adopted annually, starting 2016, each time containing new provisions and wording.
iy