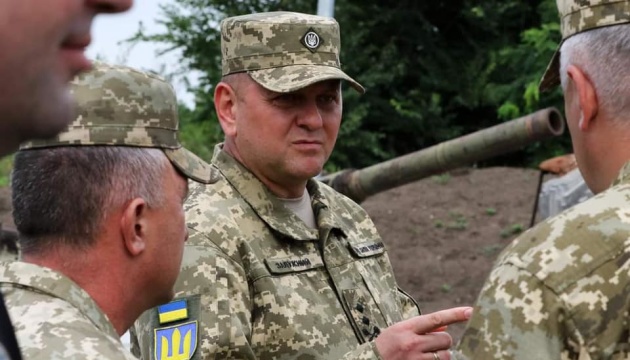 CinC Zaluzhnyi believes Russia "may have another go" at Kyiv
Russia has about 1.2-1.5 million people in mobilization reserves, while training about 200,000 freshly drafted soldiers, and is highly likely to make another attempt to capture Kyiv.
Commander-in-Chief of the Armed Forces of Ukraine Valery Zaluzhnyi said this in an interview with The Economist, Ukrinform reports.
"Russian mobilisation has worked. It is not true that their problems are so dire that these people will not fight. They will. A tsar tells them to go to war, and they go to war. I've studied the history of the two Chechen wars—it was the same. They may not be that well equipped, but they still present a problem for us. We estimate that they have a reserve of 1.2m-1.5m people… The Russians are preparing some 200,000 fresh troops. I have no doubt they will have another go at Kyiv," said Zaluzhnyi.
According to the Commander-in-Chief, currently Ukraine has no sufficient resources to carry out more major operations, although they are being worked out.
"I know that I can beat this enemy. But I need resources. I need 300 tanks, 600-700 ifvs, 500 Howitzers. Then, I think it is completely realistic to get to the lines of February 23rd. But I can't do it with two brigades. I get what I get, but it is less than what I need. (…) We can and should take a lot more territory," said CinC Zaluzhnyi.
According to him, Ukraine does not need to run another wave of mobilization, but it needs more military equipment and ammunition.
"We have enough people, and I can clearly see what I have. I have enough. I don't need hundreds of thousands more. We need tanks, we need apcs [armoured personnel carriers], infantry fighting vehicles. And we need ammunition. Please note, I'm not talking about f-16s right now," said Zaluzhnyi.
The Commander-in-Chief of the Armed Forces also pointed out that the Russian troops have withdrawn to a distance where they cannot be reached by HIMARS, so it has become more difficult to strike the enemy with these weapons.