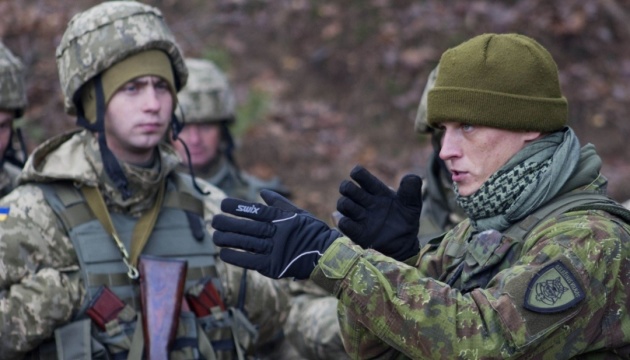 Lithuania to train more Ukrainian soldiers in 2023
Lithuania's Ministry of Defense of Lithuania and the Lithuanian Armed Forces are increasing the pace of training for Ukrainian troops.
That's according to a statement posted on the ministry's website.
About 500 Ukrainian soldiers were trained as part of courses delivered by the Ministry of Defense and the Lithuanian Armed Forces in 2022. In order to strengthen the resilience of Ukraine, the pace of training will be increased, with the Lithuanian army expected to train about 1,500 Ukrainian servicemen in 2023, including 1,100 of them in Lithuania.
"Lithuania will continue supporting Ukraine in every way possible for as long as necessary, until the Russian war comes to close. We will also enhance Ukraine's military capabilities afterwards: the aim of our assistance is to help Ukraine win in this war and to ensure its territorial integrity in the long-term. We support the Armed Forces of Ukraine and help build its resilience not only by responding to the current needs but also by working to ensure deterrence in the future," said Minister of National Defense Arvydas Anusauskas.
The last course on the schedule for Ukrainian troops began in Lithuania this week. It teaches safe conduct in a CBRN-contaminated operational environment. Later in December, the courses on UAVs and intelligence collection from open sources will wrap as well.
In 2022, instructors of the Lithuanian Armed Forces have provided training to Ukrainian troops in 18 different courses, including basic individual skills, junior officer command, instructor, special forces, demolition and demining courses. Operators and those engaged in maintenance for different types of military equipment were also trained.
"We are contributing not only to a stronger Ukraine but also to a stronger Lithuania and the whole Europe by training the Ukrainian military. Our assistance to Ukraine is particularly flexible and satisfies the different needs of Ukraine, not just the current but the prospective ones," Anusauskas said.
Part of the courses scheduled in 2023 will be a part of the new European Union's Military Assistance Mission Ukraine (EUMAM Ukraine). Training is planned to be provided on EU territory for approximately 15,000 Ukrainian military in total.
Photo: Delfi