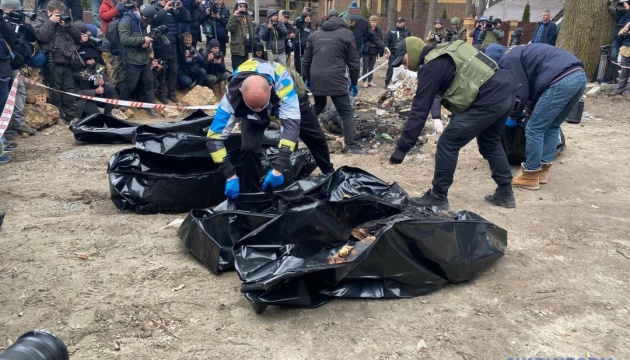 UN publishes report on summary executions of civilians in Ukraine by Russian troops
In the initial weeks of the invasion of Ukraine, Russian armed forces summarily executed or carried out attacks on individuals leading to the deaths of hundreds of civilians, the Head of the UN Human Rights Monitoring Mission in Ukraine, Matilda Bogner, said on Wednesday.
That's according to a statement posted on the website of the Office of the United Nations High Commissioner for Human Rights, Ukrinform reports.
A UN Human Rights report based on the work of the Mission details how Russian troops killed civilians in Ukrainian towns and villages across Kyiv, Chernihiv, and Sumy regions of Ukraine from February 24 until April 6, 2022.
According to Bogner, the summary executions examined in the report may constitute a war crime.
In the town of Bucha near Kyiv, which was under the control of Russian troops from March 5 to 30, the Mission documented the killing of 73 civilians (54 men, 16 women, 2 boys, and 1 girl) and is in the process of corroborating an additional 105 alleged killings.
"A mere text message, a piece of camouflage clothing, or a record of previous military service could have fatal consequences," Bogner said.
The report states that the UN has, so far, documented the violent deaths of 441 civilians (341 men, 72 women, 20 boys and 8 girls) in the three regions in the initial six weeks of the Russian invasion alone. At the same time, the authors of the document say that cautions that the actual figures are likely to be considerably higher as work is still ongoing to corroborate an additional 198 killings that occurred in the Kyiv, Chernihiv, and Sumy regions of Ukraine occupied by Russia in the initial stages of the ongoing armed attack against Ukraine.
"Civilians were targeted on roads while moving within or between settlements, including while attempting to flee the hostilities," Bogner said.
"Russian soldiers brought civilians to makeshift places of detention and then executed them in captivity. Many of the victims' bodies were found with their hands tied behind their backs and gunshot wounds to their heads," she added.
The report found that men and boys comprised 88 per cent of all victims of summary executions.
The report states that although many months have passed since the first killings became known, much needs to be done to hold those responsible to account. The UN Human Rights Office has found no information that the Russian authorities have been actively investigating or prosecuting any of such cases.