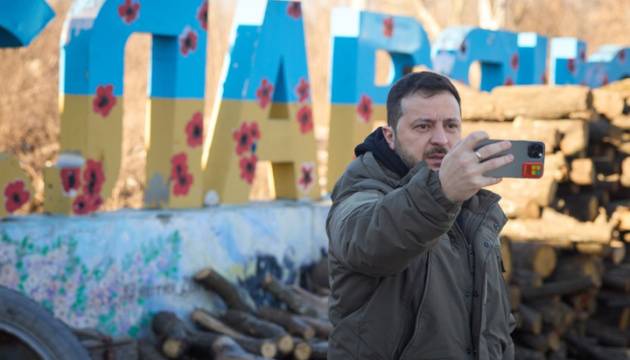 Zelensky arrives in Donetsk region's city of Sloviansk
On the Day of the Armed Forces of Ukraine, President Volodymyr Zelensky has visited the positions of Ukrainian defenders in the east of the country.
"Traditionally, I meet this day on the front line with our warriors. Today we are in Donbas. The combat zone has become larger, the struggle is more difficult, the price is higher. But there is something that remains unchanged, stable, strong - your courage, your endurance, your will, and therefore our freedom, your steadfastness, and therefore our independence," the head of state addressed the soldiers of the Armed Forces in a short video message, Ukrinform reports.
Zelensky assured that he is proud of all troops of the Armed Forces, and expressed his gratitude to the parents who raised real heroes, wives, husbands and children who are waiting for their defenders.
"Today is not only the day of the Armed Forces, it is the year of the Armed Forces. I think it is the time of the Armed Forces, the time when everyone sees who the Ukrainian defenders are. Someone called themselves the second army of the world. Everyone sees who has the first place, everyone sees our power, strength, your skills, your standards, the standards of Ukraine," the head of state said.
The president emphasized that all of Ukraine is waiting for the warriors to return home alive, believes in them and helps them.
The Day of the Armed Forces of Ukraine is marked on December 6, the day of the adoption of the law "On the Armed Forces of Ukraine" in 1991.
Photo: Office of the President of Ukraine
iy