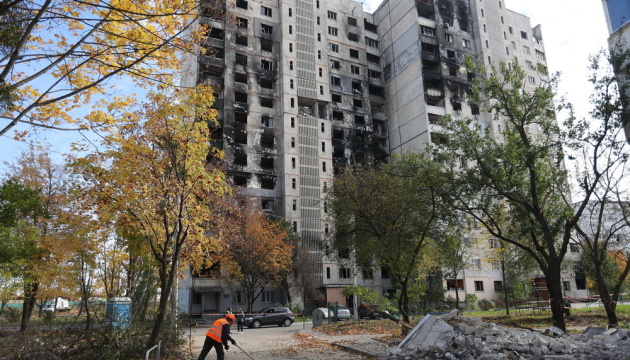 Russian shelling causes at least $9B in damage to Kharkiv - mayor
As a result of enemy shelling, Kharkiv sustained damage worth at least $9 billion, which is a very approximate amount.
Kharkiv Mayor Ihor Terekhov said this at a press conference, an Ukrinform correspondent reports.
"As for the damages inflicted by Russian aggressors, they are very significant. Now it is impossible to say for sure whether it's 6, 7, 8, or 9 billion dollars in financial terms. It can be stated that as of today, it is somewhere around $9 billion. But this is a very approximate figure. Because there are things that cannot be evaluated now," Terekhov said.
According to the mayor, approximately 500 apartment buildings cannot be restored (about 300 of them in Northern Saltivka, which was the district most affected by shelling). In addition, 109 schools and 110 kindergartens were destroyed or damaged to one degree or another, while some of them cannot be restored.
Russian troops also damaged 53 medical facilities, as well as boiler houses, water pumps, and municipal transport.
As reported, in Kharkiv, the residential areas of Pivnichna Saltivka, Horyzont, and the village of Pyatykhatka are the areas most affected by Russian shelling.