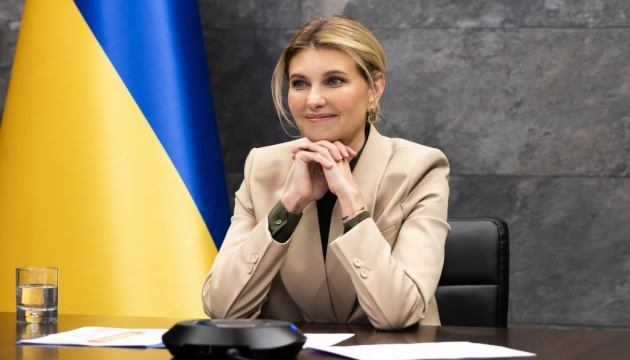 Ukraine's first lady, UK health secretary discuss national program for psychosocial support
Ukraine's First Lady, Olena Zelenska, and UK Secretary of State for Health and Social Care Steve Barclay have discussed the national program for mental health and psychosocial support.
She said this in a post on Telegram, Ukrinform reports.
"War is a powerful stress that affects almost every resident of Ukraine. And we must minimize the effects of this attack on the nation's mental health. That is why I initiated the creation of the National Program for Mental Health and Psychosocial Support. Yesterday I discussed it with the UK Secretary of State for Health and Social Care, Steve Barclay, thanking him for all the help we have already received," Zelenska said.
According to her, project teams have recently gathered at a virtual round table dedicated to mental health issues, which was organized jointly with the Royal Foundation of the Prince and Princess of Wales.
"We need the rehabilitation of our mental health system. We also plan to move forward together - to establish cooperation between our Ministry of Health for the exchange of developments and training of specialists," the president's wife said.
She also called on the UK health secretary to cooperate in the audit and processing of data being currently received by Ukrainian specialists for the further development of a system of psychological and psychosocial support. Both parties also discussed the issues of exchanging experience in prosthetics with Ukrainian experts and adaptation of clinics in Ukraine.
"We need to build a network in Ukraine, because it is better to do prosthetics in your own country, because after the procedure itself, maintenance of the prosthesis is necessary. I am sure that when the full cycle is available in the country, it is much more effective," Zelenska said.
The first lady noted that in this process Ukraine needs the help and expertise of British clinics. "In particular, I support one of these projects - this is Superhumans, where I am a member of the board. Our goal is to develop an innovative approach, the use of bionic prostheses, so that Ukrainians can receive them without going abroad," Zelenska said.
According to her, today Ukraine needs support, but at the same time, it is gaining unique experience, the study of which can be useful for other countries, including the UK.
"This is an experience for which we pay a very high price," Zelenska said.
Ukraine's first lady is on a visit to the United Kingdom.