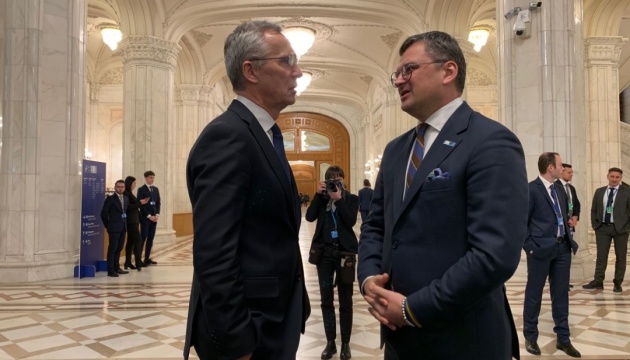 Arms production for Ukraine: Kuleba calls on NATO countries to make decisions more quickly
Minister of Foreign Affairs of Ukraine Dmytro Kuleba calls on NATO countries to make decisions on the launch of production lines and arms supplies to Ukraine more quickly
Speaking with journalists in Bucharest, Ukraine's top diplomat noted that the last time he was invited to a meeting of NATO foreign ministers, he came with three words: "Weapons, weapons, weapons." "Today I have three other words: 'Faster, faster, faster.' We appreciate what has been done, but the war continues. We proved that we can defeat Russia, that we can win together for the sake of the entire Euro-Atlantic space and the world," the minister said, an Ukrinform correspondent reports.
In this context, Kuleba emphasized that Western countries should make decisions on weapons, on the launch of new production lines of weapons more quickly, and their supply should take place faster. According to him, this is what the ministers of NATO and Ukraine discussed today: how to speed things up.
Kuleba also expressed his belief that this will be the first meeting of NATO ministers where the issue of energy security will be as important as the issue of defense. "Yes, transformers, generators and other equipment are very important. In this context, the comprehensive package of assistance, which is being handled by NATO and coordinated by the Secretary General, plays a very important role."
Ukraine needs air defense systems: IRIS, Hawk, Patriot, as well as transformers, the minister summed up.
"When we have transformers and generators, we can restore our energy system and provide people with decent conditions which Putin is trying to take away from them. When we have air defense systems, we will be able to protect this infrastructure from the next Russian missile strikes, which will surely come. Unfortunately, this is a reality for which we should prepare," the foreign minister explained.
As reported, Bucharest hosts the Meeting of NATO Ministers of Foreign Affairs on November 29-30. Dmytro Kuleba and his foreign colleagues will discuss further military aid to Ukraine and the restoration of Ukrainian energy infrastructure. The minister also holds a number of bilateral meetings.
Photo: @DmytroKuleba
ol