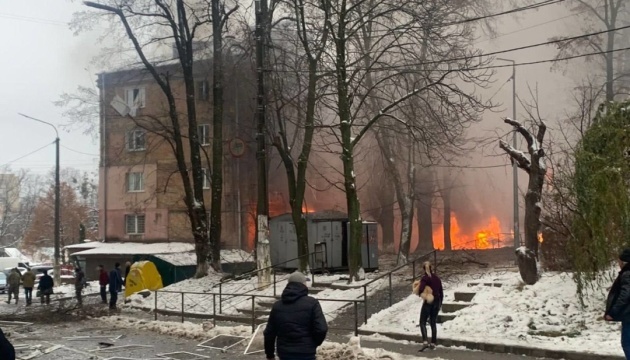 Russian missile in Vyshgorod damages four apartment blocks, kindergarten, school - police
In Vyshgorod near Kyiv, four apartment blocks, a kindergarten and a school were damaged during the Russian shelling on November 23.
The head of the Kyiv regional Police Department, Andriy Nebytov, stated this on the air of the telethon, an Ukrinform correspondent reports.
"On the situation in Vyshgorod. Our officers are there now. The entire perimeter is cordoned off. Let me remind you that, in addition to four apartment blocks, a kindergarten and a school were also damaged. Windows were shattered," he said.
Nebytov assured that the police will prevent looting, ensure law and order, and that the local authorities, for their part, will ensure temporary resettlement of those affected.
According to the police chief, as per the instructions of the head of the Kyiv regional military administration, Oleksiy Kuleba, "Invincibility Points" have been deployed in a number of districts of Kyiv region, where law enforcement officers are on duty.
"Regarding the liquidation of the consequences (of the Russian shelling— ed.), energy repair teams worked throughout the night. As recently as yesterday, electricity supplies were being restored to some settlements. Unfortunately, after yesterday's shelling, 1,125 settlements were left without power. But energy teams are working, and I am sure that we will overcome all these consequences," said the head of the capital region police.
"We work at all Invincibility Points, ensure order, and help our citizens," Nebytov assured.
"On the first night, even before the shelling, I know that people came there — about 100 people took advantage of these opportunities. Currently, of course, there's more ," Nebytov said.
As reported, the deputy head of the President's Office, Kyrylo Tymoshenko, said that the death toll of an enemy missile strike on the Kyiv region has increased to five.
For his part, Oleksiy Kuleba said that all the victims – from Vyshgorod, Chabany, Hlevakha, and Ukrainka – are under medical supervision.
On November 23, Russian troops once again carried out massive shelling of Ukraine, targeting infrastructure facilities and residential buildings. There are dead and wounded.
Enemy strikes led to the temporary blackout of all nuclear power plants, most thermal power plants, and hydroelectric power stations.
Photo: Andriy Nebytov, Telegram