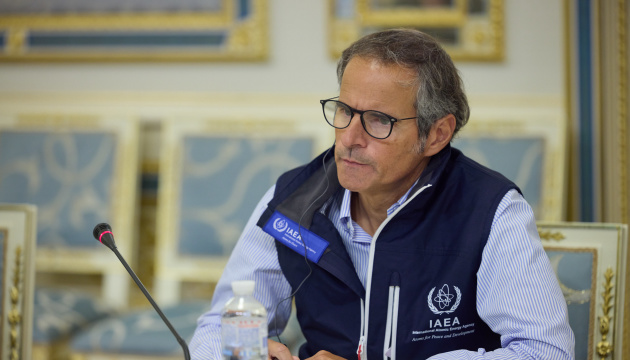 IAEA director general, Rosatom chief discuss security zone around ZNPP
IAEA Director General Rafael Mariano Grossi has discussed the creation of a nuclear safety and security zone around the Zaporizhzhia NPP with a Russian delegation led by Rosatom Director General Alexey Likhachev in Istanbul on Wednesday.
That's according to the Twitter account of the International Atomic Energy Agency, Ukrinform reports.
"IAEA Director General Rafael Mariano Grossi met a Russian delegation led by Rosatom DG Alexey Likhachev in Istanbul today, for consultations on operational aspects related to safety at Zaporizhzhia NPP in Ukraine & on urgently establishing a nuclear safety & security protection zone," the tweet reads.
ZNPP, the largest nuclear power plant in Europe, has been occupied by Russian forces since March 4. Since then, the invaders have been deploying military equipment and ammunition at the station, as well as shelling surrounding areas.
Early on November 20, due to numerous Russian shelling incidents, at least 12 hits were recorded at the site of the Zaporizhzhia NPP. By shelling the station, the Russians disabled the infrastructure for starting the power units that were supposed to generate electricity for Ukraine.
On November 21, Ukrainian President Volodymyr Zelensky said that the Ukrainian authorities were working to ensure the implementation of an IAEA order to stop any hostile activity against Ukrainian nuclear facilities. He said that the demilitarization of the Zaporizhzhia nuclear plant was extremely important for this purpose and Russia must withdraw all its fighters from there and stop shelling the plant.
Photo: President's Office