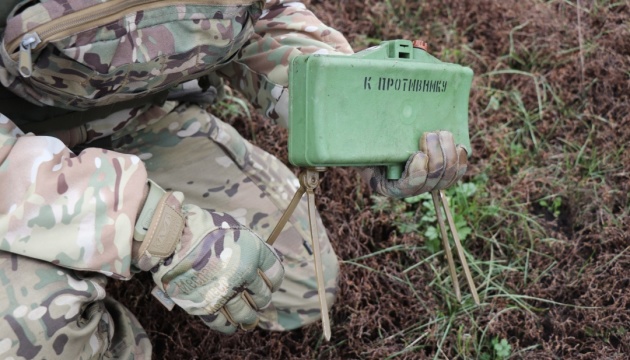 Landmine corridor uncovered in liberated villages of Kharkiv region
A landmine corridor, which the invaders had prepared for the Armed Forces of Ukraine, was uncovered in the liberated villages of Derhachi community in the north of Kharkiv region.
"While carrying out filtration activities in the settlements of Shopino, Tokarivka, and Hoptivka, the National Guard and the military counterintelligence units established the location of MON-90, MON-50, OZM-72 landmines and high-explosive projectile by means of a reconnaissance survey of the local population," the eastern operational territorial unit of the National Guard of Ukraine posted on Facebook.
As noted, the landmines were placed in a chain. The invaders made a landmine corridor intended to blow up Ukrainian personnel and equipment when entering a settlement. If the landmine corridor had worked, the civilian population would have come under fire as well.
As noted, MON-90 is a Soviet directional type of anti-personnel mine designed to hit enemy personnel with fragments at a distance of up to 100 meters. OZM-72 is a bouncing mine.
The found high-explosive projectile was filled with two kilograms of TNT. An improvised explosive device with nails and cartridges was also discovered.
The National Guard members take detected landmines away to place them on the border and use them to mine the border area in front of their positions to thwart a possible enemy breakthrough or attack.
As reported, the border villages in Derhachi community in Kharkiv region – Shopino, Tokarivka, Hoptivka and other settlements – were liberated during a large-scale counteroffensive of the Armed Forces of Ukraine in September.
Photo credit: National Guard
ol