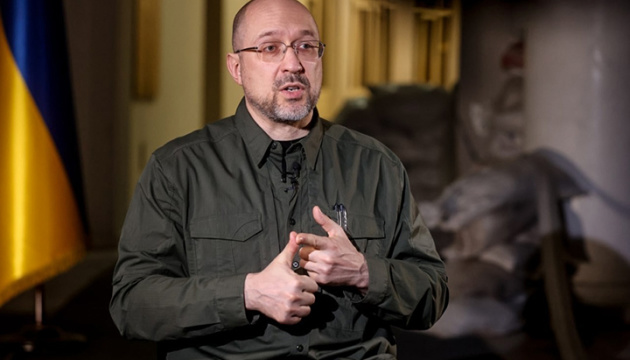 Government preparing for all possible scenarios due to attacks on Ukraine's energy system - Shmyhal
The Cabinet of Ministers of Ukraine is preparing for all possible scenarios due to attacks on Ukraine's energy infrastructure, including by intensifying imports of energy-generating devices.
Ukrainian Prime Minister Denys Shmyhal said this in a post on Facebook, Ukrinform reports.
"Ukraine's energy system is subject to new attacks. Therefore, the government is preparing for all possible scenarios. We are intensifying the import of energy-generating devices. Every Ukrainian can import a generator or power station from abroad without paying customs duties and VAT. About 8,500 generators are imported every day," Shmyhal wrote.
He said that Ukraine receives financial support from partners. Canada issued five-year government bonds worth 500 million Canadian dollars. Anyone can help strengthen Ukraine, he said.
The government also decided to attract an additional $4.5 billion in grants from the International Bank for Reconstruction and Development and the International Development Association. The funds will be spent on social security and salaries to state employees. Next week, Ukraine will receive EUR 2.5 billion from the European Union.
Shmyhal said that the government had allocated UAH 100 million for the priority restoration of the liberated Kherson region. According to him, this will be the beginning of the reconstruction of the region. First of all, the issue concerns the critical needs of the residents of the region: access to light, water, heat, communications, and medicine. Residents of the Kherson region also receive pensions that were accrued to them when the region was under Russian occupation.
Shmyhal recalled that the District Court of The Hague this week passed the first verdict against the killers of the passengers of the Malaysia Airlines Flight MH17 and the perpetrators were convicted.
"Sooner or later, everyone who gave orders will be punished. War criminals who commit atrocities in Ukraine today will be punished too," he said.
Shmyhal said on November 18 that Russian missile attacks on critical infrastructure had disabled almost half of Ukraine's energy system.
On November 15 alone, Russia fired about a hundred missiles at Ukrainian cities.