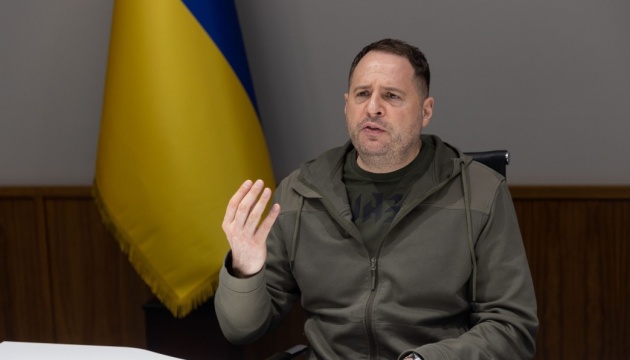 Ukraine withstood extremely difficult enemy blows, continues to move forward - Yermak
The head of the Ukrainian President's Office, Andriy Yermak, said that Ukraine has withstood extremely difficult enemy blows and continues to move forward.
According to Ukrinform, Yermak said this in a statement on Telegram.
"The enemy thinks that he will weaken our defense with strikes on energy and will be able to hit us in the back. This is a naive tactic of cowardly losers that we are ready for. Ukraine has already withstood extremely difficult blows from the enemy, which did not have the results that these Russian cowards were counting on. We continue to move forward," Yermak said.
At the same time, he called on everyone not to ignore air raid alerts.
"They won't succeed. We will crush them," Yermak added.
On November 15, Russian troops fired about a hundred cruise missiles on targets across Ukraine, damaging energy infrastructure in several regions. Energy Minister German Galushchenko called the Russian attack on Ukraine's energy system the most massive attack since the war started. He added that this attack could have an impact not only on the energy system of Ukraine, but also on the energy systems of some neighboring countries.