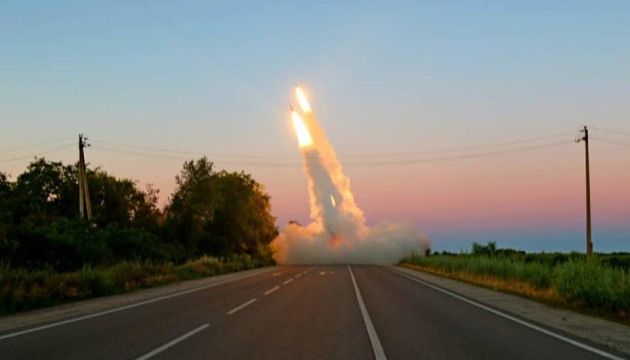 Ukrainian forces open fire on invaders on left bank of Dnipro River, near Kinburn Spit
The rocket and artillery units of the Defense Forces of Ukraine on November 15 opened fire on the positions of the Russian occupiers, areas of concentration of manpower, equipment and weapons on the left bank of the Dnipro River and in the area of the Kinburn Spit.
That's according to Ukraine's Operational Command South, Ukrinform reports.
In total, the military completed more than 50 fire missions., killing 17 Russian occupiers, destroying and damaged 15 armored vehicles, two self-propelled artillery pieces and an Orlan-10 reconnaissance unmanned aerial vehicle.
In addition, two ammunition depots in Nova Kakhovka and Oleshky were destroyed. The remaining losses of the enemy are being clarified.
On November 15, the Defense Forces of Ukraine in the south repelled rocket attacks by the occupiers. A total of 23 cruise missiles were launched on territorial communities in the area of responsibility of the Operational Command South. Despite the good work of Ukrainian air defenses, the occupiers hit important infrastructure in the Kirovohrad, Vinnytsia regions, etc.
Currently, the situation in the Southern Buh direction and in the Tavriisk operational area remains tense, but controlled by the Defense Forces.
On November 15, Russian troops fired about 100 missiles on targets across Ukraine, hitting infrastructure and residential buildings.
On Wednesday, November 16, the UN Security Council will discuss Tuesday's missile attack on Ukraine's infrastructure and residential buildings by Russia.