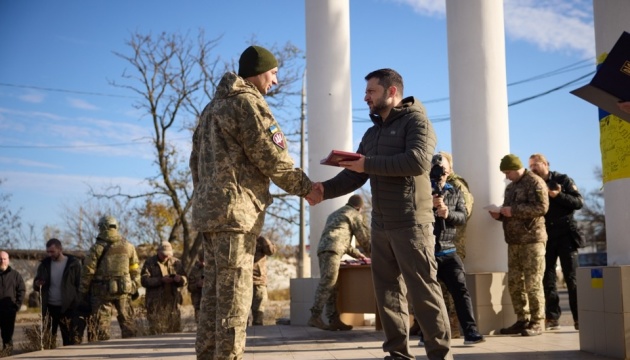 Zelensky presents orders to soldiers who liberated Kherson region
Ukrainian President Volodymyr Zelensky has presented state awards to soldiers who distinguished themselves during the liberation of Kherson city and the Kherson region.
That's according to the press service of the head of state, Ukrinform reports.
"The enemy does not simply return anything to us. We are paying a very high price in this war. Freedom costs us the lives and health of our best people," Zelensky said, noting that the liberation of territories is not easy for Ukraine, and this is due to the colossal efforts of Ukrainian defenders.
Zelensky thanked the soldiers for their courage and selflessness in the defense of Ukraine.
On November 14, Zelensky visited Kherson, recently liberated from Russian invaders.
On November 11, he announced that Kherson was returning to Ukraine's control.
On November 12, the President's Office of reported that the head of the Kherson regional military administration, Yaroslav Yanushevych, employees of the National Police and the Security Service of Ukraine have already started work in Kherson city and the Kherson region.
Kherson was occupied by the Russians on March 2 and liberated by the Ukrainian army on November 11.
Video: President's Office