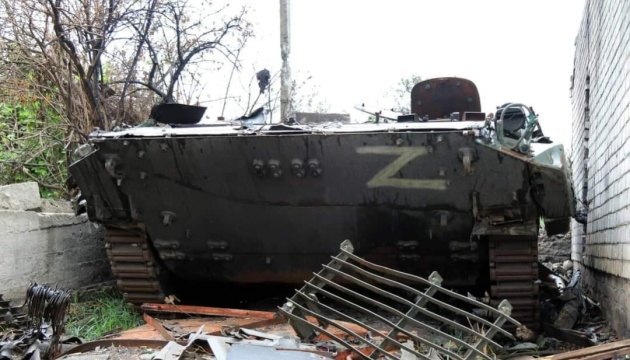 Ukraine Army destroys enemy ammo depots, hangar with enemy equipment in country's south
The Armed Forces of Ukraine retain control of the situation in the South Buh direction. On October 27, Ukrainian soldiers destroyed dozens of enemy troops.
This is reported by Ukrinform with reference to Operational Command South.
During the day of battles, the assault and army aviation carried out 16 strikes on the manpower, equipment and weapon clusters of the invaders.
In turn, the missile and artillery units performed about 130 fire missions. Russian losses amounted to: 44 soldiers, a tank, two mortars, and three armored combat vehicles.
"Two ammunition depots and a hangar with enemy equipment were destroyed in the Beryslav district," said the Command.
As of October 28, the aggressors continue shelling the positions of Ukraine's forces, using MLR systems, barrel artillery, and mortars. In addition, they shelled, communities in:
Bashtanka district of Mykolaiv region;
Beryslav district of Kherson region; and
Nikopol district of Dnipropetrovsk region.
There were no casualties reported as a result of enemy attacks.
Enemy aircraft attacked six times over the past day. In response, Ukrainian aviation made 16 strikes on areas where the enemy's manpower, equipment and weapons were concentrated.
In addition, an effective hit on a pontoon crossing with Russian military equipment on it was confirmed
According to the data of OC South, there are 11 Russian warships and cutters maneuvering along the coast of the temporarily occupied Crimea in the Black Sea.
In particular, Russia keeps 4fourKalibr cruise missile carriers deployed – two underwater and two surface vessels. Twenty-four enemy missiles are ready for launch. In addition, there are two large landing craft at sea.
"The occupiers continue to launch missile and artillery attacks on civilian objects and critical infrastructure, and the threat and kamikaze drones being deployed in large numbers remains in place. So do not expose yourself to danger, be alert, aware, and careful. Be sure to respond to air raid alert signals. Take care of your own life and the lives of your loved ones," emphasized OC South.
As the agency previously reported, in two days, Russia launched more than 30 kamikaze drones over Ukraine.