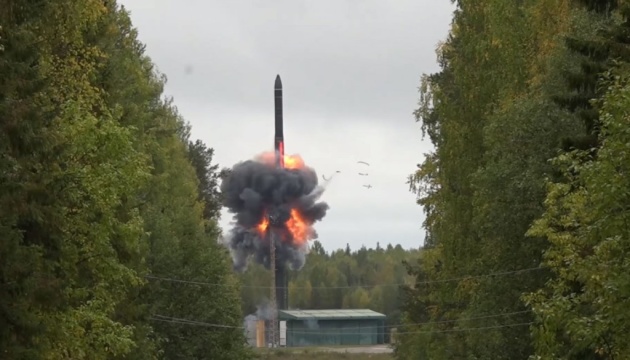 Russia conducts nuclear exercises, working out massive "response strike"
The Russian military under the leadership of the Russian president ran an exercise of land, sea, and air strategic deterrence forces, during which practical launches of ballistic and cruise missiles took place.
This is reported by Ukrinform with reference to the Kremlin's press service.
"The Yars intercontinental ballistic missile was launched the Plesetsk State Test Cosmodrome and the Syneva ballistic missile – from the Barents Sea at the Kura test site in Kamchatka. Tu-95MS long-range aircraft were also involved, launching air-based cruise missiles," the statement says.
It was stated that during the event, "the level of preparedness of the military command bodies and professional skills of the management and operative staff were checked on organizing command of the troops." "All the missiles engaged their targets," the report added.
Zvezda TV, run by Russia's Ministry of Defense, reported with reference to minister Sergei Shoigu that the drill "worked out the task of a massive nuclear strike in response to an enemy nuclear attack."
Earlier, the Pentagon reported that the Russian authorities had informed the U.S. in advance about the Grom exercises of the strategic nuclear forces. These drills are conducted annually, the U.S. Department of Defense noted.
The previous Grom exercise took place on February 19, 2022, five days before the start of a full-scale invasion of Ukraine.