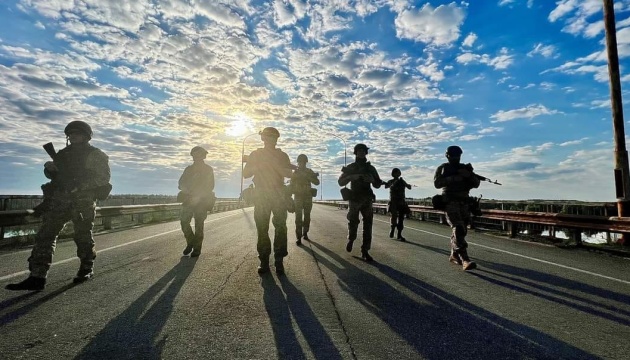 Ukraine's Army keeps pushing enemy back in Kherson region
The Armed Forces of Ukraine continue to move the front line southward in Kherson region.
That's according to the head of the joint press center of Operational Command South, Natalia Humeniuk, who spoke at the national telethon, Ukrinform reports.
According to the spokesperson, the Ukrainian defense forces continue to move the front line, although the Russian troops are very firmly entrenched there with their defensive lines. The operation continues, and they sometimes try to amass their forces on the left bank of the Dnipro in Kherson region," Humeniuk noted.
"I would like to note that one should be very critical to the messages that we hear amid this hybrid war. The Russian puppet occupation government is very powerfully focused on the information front, in order to sow panic among the population," Humeniuk emphasized.
In addition, the official called on Ukrainians to critically evaluate reports on frontline developments, and also denied the Russians' claims about the alleged success in pushing Ukrainian defenders out of a number of settlements in Kherson region.
"This is about manipulating people's minds. Such wording was chosen in order to somehow get out of this situation later. There is no such action ongoing that would correspond to them pushing the Armed Forces out of some populaces... We do not hide our actions, we do not expose the direction of our advance, but we never conceal such actions. Therefore, this is another manipulation and nothing more," Humeniuk said, commenting on the report of the so-called Russian war reporters about the alleged ousting of the Ukrainian units from a settlement in Kherson region.
Photo: General Staff of the Armed Forces of Ukraine