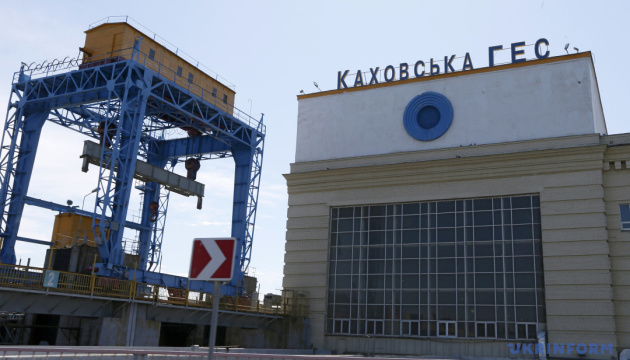 Ukraine asks Energy Community to assess consequences of possible blast at Kakhovska HPP
Deputy Prime Minister for European and Euro-Atlantic Integration of Ukraine, Olha Stefanishyna, has called on the Secretariat of the Energy Community to conduct a comprehensive assessment of the consequences of a possible detonation by Russian terrorist forces of the Kakhovska Hydro Power Plant.
This was discussed during the government official's meeting with the director of the Secretariat of the Energy Community Artur Lorkowski and deputy director Dirk Buschle, Ukrinform reports with reference to Stefanishyna's Office.
"The Ukrainian Army continues effective counteroffensive actions, regaining its territories. Russia, not having an army that no longer keeps the world frightened, is intensifying the practice of mass terror. Today, it is necessary to give an international assessment of the consequences of a possible blast at the Kakhovska HPP by Russia as soon as possible – the whole world must see the criticality of the humanitarian and man-made disaster that the Kremlin is set to create," Stefanishyna said, noting that this assessment should be used to introduce further sanctions against Russia and planning energy support of Ukraine.
The parties also discussed coordination of assistance to Ukraine in the restoration of energy infrastructure, which is being subject to massive air strikes. Lorkowski told of what had already been done to establish effective coordination and delivery of materials from EU member states for the restoration of the energy sector.
Stefanishyna thanked the leadership of the Secretariat of the Energy Community for the strong support that the organization, together with the participating states, has provided to Ukraine since the full-scale invasion. In particular, it is noted that 27 deliveries of 500 tonnes of critical equipment and materials were coordinated with the assistance of the Energy Community; another 21 batches of power equipment are currently being prepared for shipment. Separately, the parties discussed maintaining the liquidity of the power market in Ukraine.
As Ukrinform reported, President Volodymyr Zelensky of Ukraine stated that the Russian invaders had mined the Kakhovska HPP and were preparing a terrorist attack. He also called for an international observation mission to be deployed to the site.
Mykhailo Podolyak, an adviser to the head of the President's Office, said that the Russian Federation is plotting a man-made disaster involving the flooding of the territory in the south of Ukraine in order to stop the Ukrainian counteroffensive.
Minister for Foreign Affairs Dmytro Kuleba said Ukraine was working to convey a clear signal to Russia that even preparing to blow up the Kakhovska HPP entails accountability.
Photo: European integration portal