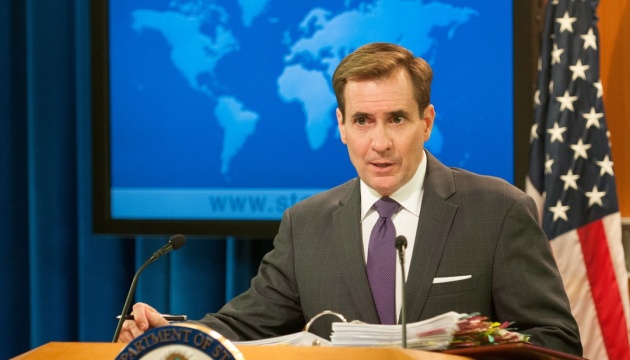 U.S. accuses Iran of direct involvement in Russia's war against Ukraine
Given Iran's transfer of combat drones to Russia and the presence of Iranian personnel in the temporarily occupied Crimea who help launch these UAVs on peaceful cities in Ukraine, the United States believes that Tehran is directly engaged in Putin's war against Ukraine.
White House national security spokesman John Kirby told this to reporters on Thursday, October 20, according to an Ukrinform correspondent.
"We assess that Iranian military personnel were on the ground in Crimea and assisted Russia in these operations [to launch UAV strikes on Ukrainian cities]," Kirby said.
He said that the Russians had already received batches of drones from Iran and would obviously get more in the future. Kirby also noted that Russia wants to obtain other weapons from Iran, such as surface-to-surface missiles, for use in hostilities against Ukraine.
Kirby said that Iran and Russia can lie to the whole world, but they will not hide the facts.
"The fact is this: Iran is now directly engaged on the ground and through the provision of weapons that are impacting civilians and civilian infrastructure in Ukraine — in fact, that are killing civilians and destroying civilian infrastructure in Ukraine," Kirby said.
He stressed that the United States "is going to pursue all means to expose, deter and confront Iran's provision of these munitions against the Ukrainian people." According to him, the U.S. will continue to vigorously enforce all U.S. sanctions on both the Russian and Iranian arms trade.
On October 20, the EU and UK introduced sanctions against Iran for supplying Russia with attack drones that are used in Russia's war against Ukraine.