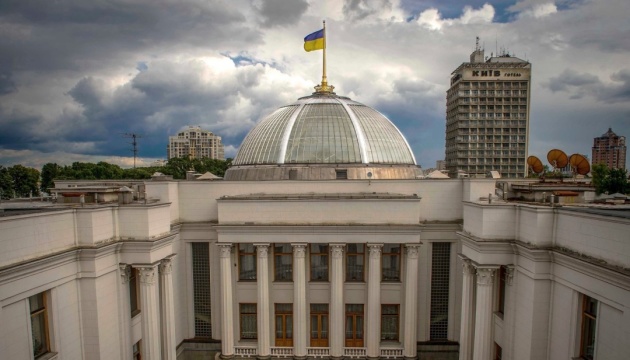 Verkhovna Rada condemns Iran's support for Russian armed aggression against Ukraine
The Verkhovna Rada of Ukraine has condemned the support of the Islamic Republic of Iran for Russia's armed aggression against Ukraine.
The relevant statement was made by Yaroslav Zelezniak, Member of Parliament from the Holos [Voice] faction, on Telegram, an Ukrinform correspondent reports.
A total of 303 Members of Parliament voted in favor of the corresponding statement.
In its statement, the Verkhovna Rada emphasizes that Iran's decision to supply weapons to Russia makes the Islamic Republic of Iran responsible for the consequences of the Russian armed aggression against Ukraine. The Iranian-manufactured weapons provided to Russia have already caused destructions to infrastructure and casualties among civilians in Ukraine.
"Tehran must be held responsible for this, and Ukraine's losses must be compensated," Members of Parliament stressed.
The Verkhovna Rada urged Iran to immediately stop the supply of weapons to the Russian Federation, condemn Russia's armed aggression against Ukraine, as well as show responsibility and willingness to change its policy. One of the steps towards this could be the admission of responsibility for the downing of the passenger aircraft of Ukraine International Airlines, PS752, which took place near Tehran in January 2020, the promotion of an impartial investigation, the prosecution of those responsible, and the fulfillment of international legal commitments regarding full compensation payments to the victims.
At the same time, Parliament called on the Ukrainian government to terminate any effective bilateral agreements with Iran, providing for the liberalization of the visa regime, and immediately work on the severance of diplomatic relations with Iran.
The Verkhovna Rada of Ukraine recommends that the President of Ukraine and the Cabinet of Ministers of Ukraine immediately start talks with the State of Israel, the United States and the European Commission in order to develop the effective measures countering Iran's programs of the production of weapons of mass destruction.
In addition, the Verkhovna Rada of Ukraine called on the international community to take all necessary measures to prevent the continuation of Iran's arms supplies to Russia, namely through sanctions against the relevant Iranian legal entities and individuals.
Members of Parliament also urged the Governments and Parliaments of foreign states to promote the strengthening of Ukraine's defense capacity, namely to enhance the country's air and anti-missile defense, as well as its ability to detect and counter the use of suicide drones and unmanned aerial vehicles.
mk