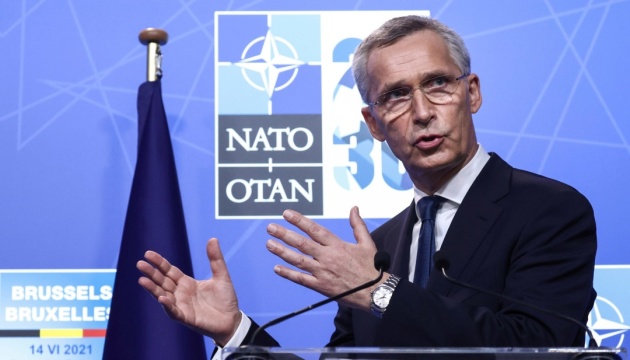 Risk of Russian nuclear attack against Ukraine low, but NATO preparing for any scenario - Stoltenberg
In the current situation, NATO considers the likelihood of Russia's use of nuclear weapons against Ukraine to be low, but the military alliance remains vigilant and is closely monitoring the state and readiness of Russian nuclear forces, especially during Russian nuclear exercises.
NATO Secretary General Jens Stoltenberg said this during a virtual speech at the Koerber Stiftung's Berlin Foreign Policy Forum on Tuesday, October 18, according to an Ukrinform correspondent.
"We are very closely monitoring what they [the Russians] are doing. We are vigilant, especially when they now are going to conduct a nuclear exercise. The risk of any nuclear attack or use of nuclear weapons against Ukraine is low, but, of course, the potential impact, the consequence is so big. So this is a risk that we have to take seriously. And we do so by conveying to Moscow that there will be severe consequences for Russia if they use a nuclear weapon in Ukraine. […] So far, we haven't seen any changes in their nuclear posture or nuclear readiness. But, of course, we are constantly monitoring this," Stoltenberg said.
He said the alliance should be prepared for any scenario. Currently, the Kremlin uses its nuclear rhetoric to intimidate allies and blackmail them to stop providing support to Ukraine so that Putin could win in Ukraine, he said.
"We cannot be intimidated or accept blackmailing from Russia because, I think, this nuclear rhetoric. […] If he [Putin] wins in Ukraine, that will send a very dangerous message to all authoritarian leaders that when they use military force in a brutal way, violating international law, they will be able to achieve their goals. That will make us more vulnerable and the world more dangerous. And therefore, yes there are risks with all options in this conflict, but the risk of letting President Putin win is much higher than to continue to support Ukraine as we do," Stoltenberg said.