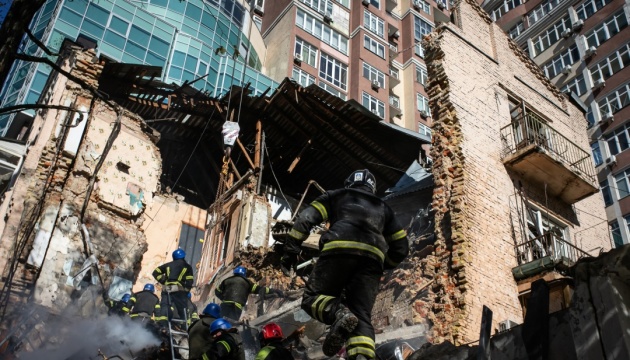 Russia has launched about 190 strikes on Ukraine since Oct 7
From October 7 to 18, Russia launched about 190 massive missiles and kamikaze drone strikes on 16 regions throughout Ukraine and Kyiv city.
"According to operational information, from October 7 to 18, Russia launched about 190 massive strikes on 16 regions of Ukraine and Kyiv city, using missiles, kamikaze drones and artillery. The biggest number of strikes during October 10, 11, 17, and 18 was launched on Kyiv region and Kyiv city," Colonel Oleksandr Khorunzhyi, Spokesperson for the State Emergency Service of Ukraine said at an online briefing, an Ukrinform correspondent reports.
As noted, those strikes were mostly launched on critical infrastructure facilities, in particular energy facilities, and civilian objects: both private houses and apartment blocks.
According to his data, more than 70 Ukrainians were killed, more than 240 people were injured, and more than 380 objects were damaged as a result of Russia's massive attack during this period.
"Not only critical infrastructure objects were targeted, many objects were precisely civilian. More than 140 private residential houses, apartment blocks and, of course, other buildings came under Russian fire," said the State Emergency Service spokesperson.
He noted that 4,000 settlements in 11 regions of Ukraine, particularly, in Poltava, Sumy, Lviv, Ternopil, Kharkiv, Vinnytsia, Khmelnytskyi, Dnipropetrovsk, Zhytomyr, and Donetsk regions had been left without power as a result of Russian shelling of energy facilities during this period.
"To date, according to the Energy Ministry data, 1,162 settlements remain without power in Dnipropetrovsk, Zhytomyr, Kirovohrad, Kharkiv, Donetsk, Zaporizhzhia, Luhansk, Mykolaiv, Kherson regions, including the occupied territories," Khorunzhyi said.
As reported, on the morning of October 17, the Russians launched another series of attacks on Ukraine's energy infrastructure. The massive Russian attack continued on Tuesday morning. In particular, energy facilities in Zhytomyr, Dnipro and Kyiv cities were struck.
ol